The big department stores are likely to have disappeared from Australia by the middle of the century but they won't go down without a fight, says Dr Matthew Bailey, a lecturer in retail history at Macquarie University's department of modern history.
Indeed, they have been overcoming threats to their existence since the middle of last century when rapid suburbanisation meant the CBD-based stores, a 19th-century retail innovation, had to adapt to a newly dispersed population, or die. (Enter the suburban shopping centre, developed by the mighty department stores themselves.)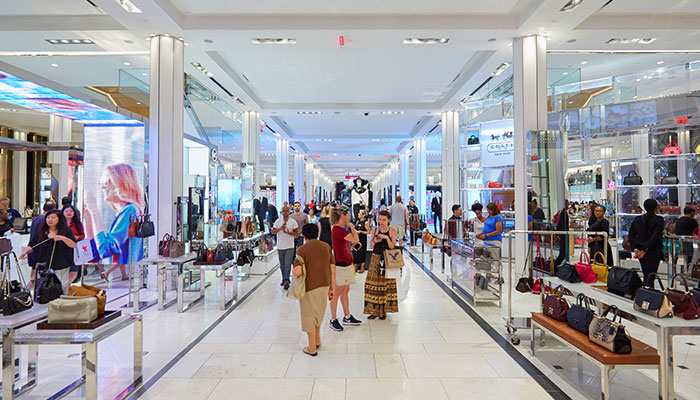 But with the combined impact today of online retail and specialist, increasingly sophisticated bricks-and-mortar competitors, the task of survival is harder than ever as the last Australian department store giants, David Jones and Myer, report falling revenue and profits.
"They will continue to adapt but they face significant challenges," Bailey says. "I think 200 years might be their life span.
"The first true department store opened around 1850, so I'd cap it at 30 more years, maybe earlier; but these things can happen really quickly, they could disappear overnight."
Amazon's looming threat
Discount department stores such as Kmart, Target and Big W, which transformed retail in the mid-20th century with their supermarket-style self-service model, also face their own existential challenges. The arrival of online retailer Amazon in Australia is likely to hit them harder than their up-market cousins, Bailey says. For David Jones and Myer, fast-fashion chains are the bigger challenge.
"Amazon competes very heavily on price, and because the discount department stores are a market that's built around price and shopping decisions that are made around price, they face a challenge," Bailey says.
"For your upper-end stores which have such a big stake in fashion, I think Amazon will hit them but not as much because they can differentiate on quality and style and brand more so than price. Amazon is pushing into fashion, though, so it will be really interesting to see how Australian consumers respond.
"It's about positioning and why shoppers choose to shop in your store."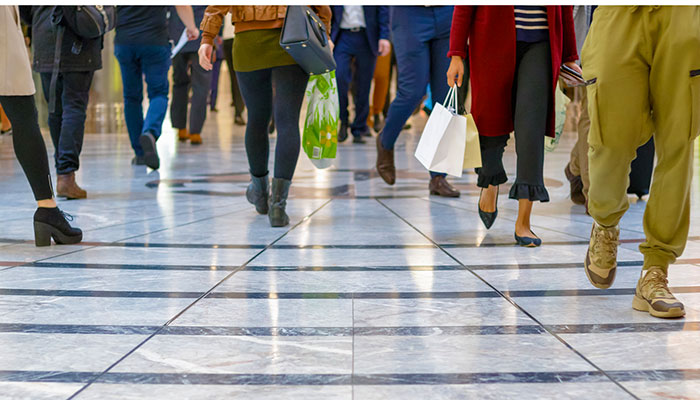 More than a place to shop
Nostalgia runs deep for department stores, which drives the keen interest in the declining fortunes of David Jones and Myer. Look above the awnings in many Australian cities and there are reminders of halcyon days in such landmark buildings as the old Mark Foys in Sydney CBD, now the Downing Centre Local Court, and the Broadway Shopping Centre which was once Grace Bros flagship store.
"People have a lot of memories about department stores," Bailey says. "Everyone went to them with their parents when they were kids. Older people will remember dressing up for trips into the city and a lot of people would have worked in department stores, or in shopping centres where there were department stores, when they were getting their first jobs.
"They are an important part of the social and economic fabric of cities and towns."
Bailey looks back at the 1970s, when an internal layout was 20,000 square feet of retail space over four or five floors, comprising large departments of whitegoods, toys, books and stationary, sporting goods and furniture – until the emergence in the 1980s and 1990s of specialist, mini-major "category killers" of the likes of Rebel Sport, Toys R' Us and Freedom Furniture.
"Department stores today are much smaller than 20 years ago; they stock a much smaller product range, so there is a rationalisation over time and they're shrinking," Bailey says.
"I think we will see some further rationalisation; I'm not sure if we'll see some mergers or some closures. Myer at the moment is closing some stores so even within firms, they're looking at how much retail space they need.
"They can't shrink too much more because then they're not really a department store."
However much retail space they have, fashion is now the key area for David Jones and Myer, says Bailey, pitting them against international retailers such as Zara and H&M which have complete control over their supply chains and distribute globally at speed.
"Department stores don't have those capabilities, and can they develop them? That is the question," Bailey says.
"Then, the other question is, what do they do to the in-store experience to make it worthwhile for shoppers to shop there?"
The customer must be king
The number one thing department stores can do to delay the inevitable, says Bailey, is to reconnect with customers. Service standards, for instance, have fallen a long way since the 1970s when competition from the new discount department stores and equal pay for women led to cutbacks in staff and increasing casualization. Sadly, it marked a goodbye to the Mrs Slocombes and Captain Peacocks of the retail world.
"The service you used to be able to get in terms of product knowledge and expertise and commitment by your sales staff to the enterprise, that shifted over time," Bailey says.
"For them now to reinvest in service, and they need to, it's expensive and puts up prices, so it's a tricky balance."
Reconnecting with customers, says Bailey, also means providing a compelling retail offer, getting their positioning right, merchandising more effectively, creating an in-store experience that makes people want to visit them and getting their online strategy correct.
"They are highly experienced retailers who know their market and are very aware of the challenges they are facing; they are investing a lot of time and effort and money in adapting," Bailey says.
"I think they'll be around for a while, but there's a lot of competition."