American politics is in a state of turmoil and uncertainty. What better time, then, to scrutinise that most mythologised of political dynasties, the Kennedy family? John Curran's gripping moral-political biopic Chappaquiddick does just that, reconstructing Senator Ted Kennedy's [Jason Clarke] role in the death of 28 year-old political secretary Mary Jo Kopechne [Kate Mara] in a car accident on the Island of Chappaquiddick on July 18, 1969.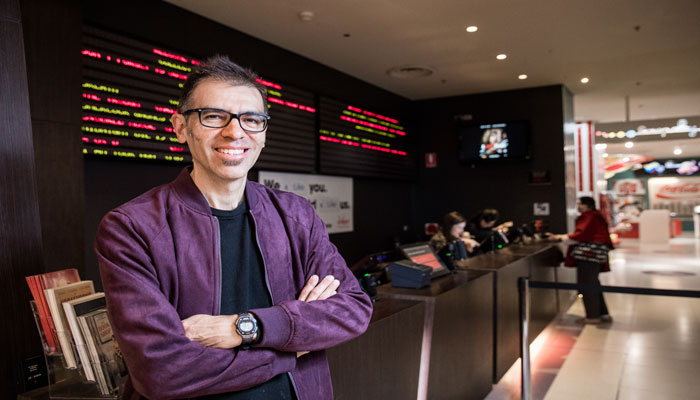 Nothing new: Associate Professor Robert Sinnebrink says fake news and alternative facts were not invented yesterday
While the precise circumstances of Kopechne's death remain a matter of controversy, the basic elements of the story are compelling. Following a celebratory party for the 'Boiler Room Girls' (a nickname for the team of skilled young secretaries who had worked tirelessly on Bobby Kennedy's Presidential campaign), Kennedy and Kopechne leave the party together late in the evening, ostensibly to drive to the ferry wharf so Kopechne could catch a ferry back to nearby Edgartown.
Clearly interested in Kopechne, Kennedy drives under the influence of alcohol, takes a detour on a dirt road at speed, careens off a one-lane wooden bridge and crashes into a tidal pond, trapping Mary Jo in the submerged vehicle. Kennedy emerges from the car unscathed, tries to free Kopechne but fails; shattered, he walks back to the party, rounds up his cousin and Mr Fixit Joe Gargan [Ed Helms], and party co-host Paul Markham [Jim Gaffigan], and they return to the scene of the accident. As they try in vain to rescue Kopechne, Kennedy collapses in a heap, muttering, 'Oh my God, what have I done?' The events that follow provide the core of the drama, which turns on Kennedy's flawed response to the tragic accident, which not only resulted in Kopechne's death but also almost ended his political career.
Kennedy's character provides the moral focus for the film, which frames its story against the weight of familial expectation (to continue the Kennedy dynasty after the deaths of JFK and Bobby Kennedy) and larger historical context (it takes place just as the Apollo 11 mission is about to land on the moon). Instead of a forensic drama, however, the film focuses on conflicted moral dilemmas: Kennedy's desire to tell the truth about what happened versus his stronger desire to avoid the devastating political consequences of accepting this responsibility (as he proclaims at one point, 'We tell the truth. Or at least our version of it').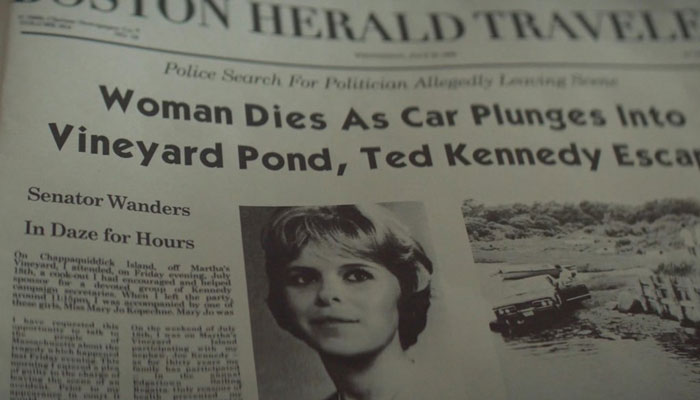 Power in crisis: how the Boston Herald reported the tragedy in July 1969.
Once Mary Jo's body is discovered and Ted's ineptitude becomes apparent, the Kennedy political machinery—presided over by semi-paralysed patriarch Joseph P. Kennedy Sr.—kicks into gear. With the threat of criminal charges looming, his family and political advisors attempt to control the narrative, manage the press, and minimise the political damage.
In the end, they succeed: Ted avoids a manslaughter charge (he was convicted of leaving the scene of an accident) and saves his political career. While the film highlights the familial and political pressures on Kennedy, the film's ethical focus remains on his moral character in a moment of crisis.
How would anyone of us act when confronted by extraordinary events, the consequences of flawed judgment, or the demand to demonstrate our true values? To say that Kennedy comes up short is an understatement; yet as the film suggests, it is not just Teddy's moral weakness that is at issue but rather the cynical manner in which those with political power manipulate the truth in order to protect their interests and maintain their authority.
Curran's skilful direction, along with Clarke's restrained performance, presents us with an emotionally churning examination of Kennedy's conduct that prompts us to reflect on the corrupting nature of media-driven power politics.
Fake news and alternative facts were not invented yesterday; Realpolitik and media manipulation have been trumping moral responsibility and political accountability for a long time. Although Hollywood continues to probe the Kennedy mythology, Curran's film offers a timely reminder of the need to question the cynical pragmatism of power and privilege at the heart of American politics.
As we are told at film's end, Kennedy did not resign—against the advice of his cousin Joe, who penned a resignation speech for his live television statement—and went on to enjoy a successful political career, earning the nickname the 'Lion of the Senate' for his longevity and combativeness in power.
Kopechne's family, by contrast, received a meagre insurance payout, while Mary Jo remains a tragically forgotten figure. From today's vantage point, Kennedy's moral failures and his family's influence over public opinion reflect more innocent political times that nonetheless paved the way for today's post-truth world.