Last weekend's bushfires in Menai and surrounding suburbs in Sydney's south-west have burned through more than 2800 hectares and were still rated 'out of control' on Monday night.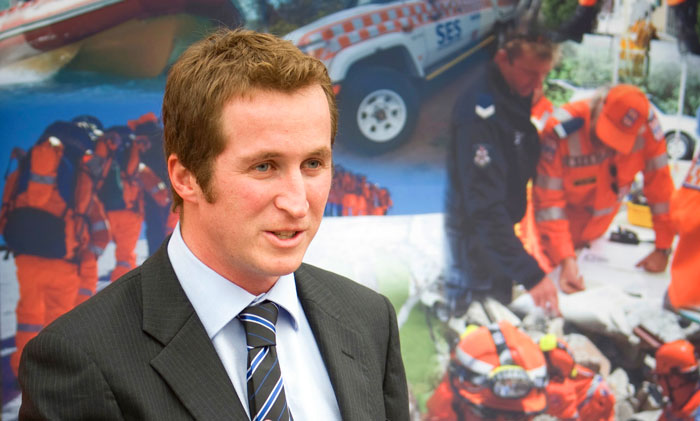 Andrew Gissing, adjunct research fellow at Macquarie's Department of Environmental Sciences, says his research found 45 per cent of vulnerable people surveyed in Western Sydney and the NSW North Coast do not heed heatwave warnings.
This April's unseasonal bushfires top off a prolonged NSW summer season where fires began in Comboyne and in the Hunter Valley during September 2017 high temperatures.
"From a bushfire perspective - we saw fires starting around Sydney as early as September, and that's continued to occur, with these late season fires occurring as hotter-than-usual April temperatures combine with other conditions, like strong winds and dry fuels," says Andrew Gissing, an adjunct research fellow at Macquarie's Department of Environmental Sciences.
As our climate warms, we're seeing more heatwaves, and that's contributing to greater bushfire hazard, he says.
"Over the course of the last summer, we've seen a number of extreme heat days," he says, citing Sydney's second-hottest day on record when the mercury topped 47 degrees on Jan 7.
Gissing is also part of research consultancy Risk Frontiers and has over a decade of front-line experience in emergency and risk management. His research through the Bushfire and Natural Hazards CRC has looked at the ways governments and communities in Australia plan for and respond to catastrophic and cascading events.
"In terms of natural hazards over the course of this summer, while there's been floods in the NT and Queensland, the most threatening events have involved extreme heat," he says.
The new normal?
"We know that the world is getting hotter, we know that Australia is getting hotter, and we know the direct result of climate change will be even more days of extreme heat," he says.
"In many temperate regions, we're anticipating fire seasons that start earlier and last much longer, as we see more frequent occurrences of severe fire risk conditions."
A longer fire season means less opportunities to reduce the bushfire fuel load through hazard reduction exercises, he says – and it also puts a greater burden on resources.
"There's some discussion about the need to extend contracts with fire-fighting helicopters," he says.
But climate change may not always increase bushfire risks; in some areas, climate change may diminish the risk of bushfire.
"In arid grasslands, climate change may actually reduce fuel loads and decrease fire risks. There's a lot of uncertainty about how different areas may be affected."
Gissing says that while bushfire risks are high-profile and very apparent, he believes that the key message on natural hazards that is emerging from this summer is the danger of extreme heat.
Extended seasons of hot weather, such as the one that Sydney has experienced in recent weeks, can have wider impacts beyond the raised fire risk.
Extreme Heat a Huge Danger
Gissing says that as prolonged hot spells are more frequent, we will see a rise in heatwaves.
That means that communities need to take measures to prepare themselves that go far beyond bushfire preparation.
His research shows that people don't currently take the risks of extreme heat seriously. His team surveyed over 300 people in Western Sydney and the NSW north coast and found that 45 per cent of people surveyed who were from vulnerable groups (the elderly, chronically ill and very young) did not proactively respond to heatwave warnings, for example by moving to cooler locations.
"We know that extreme heat is even more dangerous to people than bushfires," says Gissing.
"The highest loss of life from bushfires in Australia came from the 2009 Black Saturday bushfires in Victoria, where 173 people died. But at that time, there were over 400 deaths directly attributed to the impact of the heatwave."
The 2009 bushfires were followed by a Royal Commission, Gissing says, but there was very little focus on the heatwave deaths and the impact that the heatwave had more generally.
Economic and health burden
Extreme heat puts much greater demand on energy resources, as more air-conditioning is used, and also puts a bigger burden on our health system, he says.
There's also a wider economic impact which is potentially severe.
"Some initial work we have done on the impacts of extreme heat on businesses, for example, shows there is significant productivity loss during periods of extreme heat, particularly for those businesses involved in working outdoors or manufacturing."
Agricultural productivity is also severely impacted, he says – and heatwaves can greatly increase absenteeism and workplace productivity because they result in fatigue.
"We can compare the impact of different natural hazards across Australia in terms of death, but when it comes to comparisons in terms of economic costs, there is still a lot of work to be done to understand the wider impact of heatwaves."