Divorce, dividing property and assets, formalising parenting arrangements … family breakdowns can be messy and expensive. And often beyond the reach of low- to middle-income earners.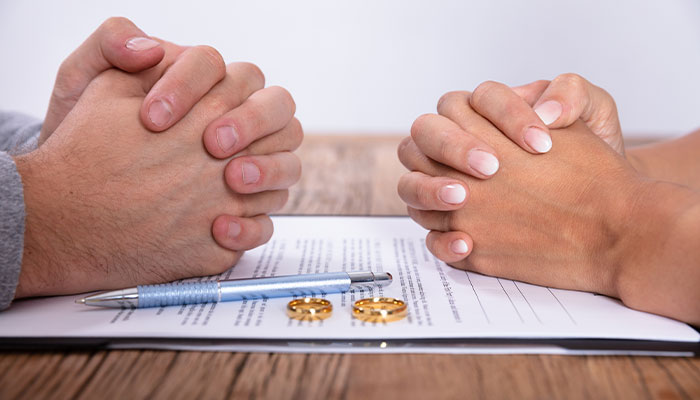 A new Sydney-based not-for-profit family law firm, Wallumatta Legal, aims to provide legal services to the 'missing middle', those not eligible for Legal Aid or other free services but who cannot easily afford fees charged by commercial lawyers.
A collaboration with global law firm DLA Piper, Wallumatta Legal has evolved from research that identified family law as one of the biggest areas of unmet legal need in Australia.
Says Associate Professor Lise Barry, Interim Dean of Macquarie Law School, "A lot of essential workers – aged care workers, nurses, teachers, cleaners and delivery drivers ̶̶̶ fall into the 'missing middle'.
"They might have full time, part time or casual work, and can meet day-to-day expenses but they don't have the savings to address a big life event like a marriage breakdown and the debt problems that brings. They're not necessarily on Centrelink benefits, but they're only just getting by."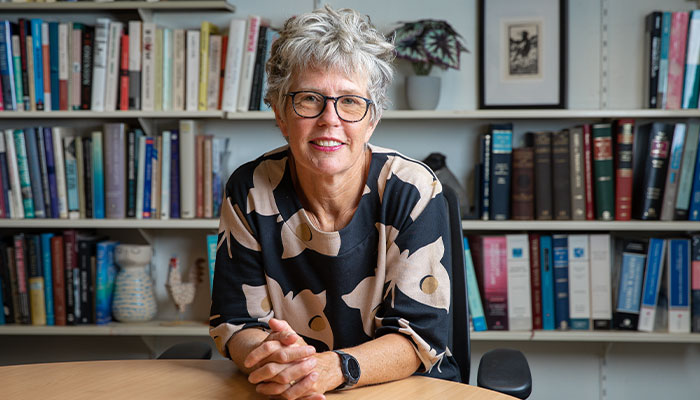 Bridging the gap: Associate Professor Lise Barry says there are many essential workers who fall into the 'missing middle'.
The reality, she says, is that unless you're on Centrelink benefits and don't have many assets, you're not going to meet the threshold. Even then, Legal Aid is available only for certain matters in family law. It is not usually available for property disputes, for instance, she says.
"Anyone with a net income over $400 a week is generally not going to meet the eligibility for Legal Aid. Some 14% of the population live below the Henderson Poverty Line yet only 8% will be eligible for Legal Aid." (The Henderson Poverty Line was devised by the Melbourne Institute's foundation director, Professor Ronald Henderson, in 1975; in 2021 this was established as $1091.50 a week for a family of two adults, one of whom is working, and two dependent children.)
Wallumatta Legal, its name adapted from the Wallumattagal clan of the Dharug Nation upon whose land Macquarie Universitysits, is a not-for-profit, low-fee service thatleverages cutting-edge legal technology and automation to provide accessible legal advice at a low cost.
Legal Tech changes the game
Dr Daniel Ghezelbash, an Associate Professor in the Macquarie Law School, has helped shape the offering. A board member of Wallumatta Legal, Ghezelbash is leader of the Law and AI stream at the Macquarie AI-enabled Processes Research Centre, and founder and director of the university's Social Justice Clinic.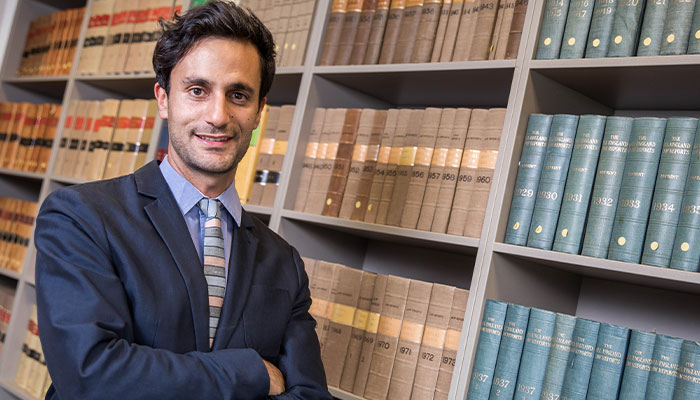 Improving access: Associate Professor Daniel Ghezelbash says legal technology is essential to a goal of delivering low-cost services sustainably.
The use of technology to build a fairer legal system and access to justice for all are passions that drive him.
Wallumatta Legal taps into the booming legal technology industry. Legal technology (often called Legal Tech) refers to the use of technology and software to provide legal services. Legal technology companies are often start-ups looking to disrupt the traditional law arena.
Legal technology is essential to a goal of delivering services at a low cost in a sustainable manner, says Ghezelbash. "We use two types of technology. One is user-facing – collecting and compiling all the information from a client before they meet the lawyer. And then we have a suite of back-end tools that automate and improve efficiencies with a range of common tasks such as filling out forms and drafting legal documents."
One of the benefits of being a new organization, he says, is being able to design everything from the ground up, to embed new technology in a service delivery model.
This project is one of the first of its kind in Australia. It stands at the forefront of academic innovation.
The availability of many of the services online also caters to people who are in essential services and can't spare hours in a physical waiting room, are out of pocket if they do, or may feel intimidated or uncomfortable in a more formal legal environment.
Wallumatta Legal prides itself on its innovative use of students, and the enthusiasm they bring to the process.
Clients with a lack of computer literacy, English language literacy, or an internet connection can be assisted through a "triage" process by law students who work there as part of their studies. At any one time, six university law students volunteer at the service as part of their practical learning. They cannot give legal advice but can guide clients through the process.
An online questionnaire collates information ahead of an initial consultation, enabling the lawyer to focus on providing the client with advice and representation rather than the often-costly face-to-face process of collecting information.
A couple separating, for example, might agree on how property will be divided or parenting shared, but need to formalise those arrangements. They might need help drafting agreements or consent orders. Wallumatta Legal will help them do as much of the work as they can themselves and then step in when legal supervision is called for.
"This project," says Lise Barry, "is one of the first of its kind in Australia. It stands at the forefront of academic innovation, providing our students with work experience in legal services right on campus."
Real-world learning for students
The new clinic fast-tracks students' ability to make real-world, positive changes to their communities with valuable insights into the practical application of family law.
"Sure, you can learn from books," says Barry, "but it's so much more impactful when you hear the stories and experiences clients bring.
The goal is for Wallumatta Legal to become a national point of reference.
"Family law problems often intersect with financial problems, housing problems, parenting problems. It's helpful for students to understand that behind legal concerns are people with issues that may be messier than law books suggest."
Located in Macquarie University's new Arts Precinct, the Wallumatta Legal team also includes Annette Bain (Social Justice Consultant and MLS alumna), Cameron Thomson (CEO), and Principal Solicitor Vivian Galanis.
The collaboration between DLA Piper and Macquarie University will also facilitate research opportunities. For example, in coming months a research fellow will look at how success in the community legal sector is measured and whether people's needs are being met in the optimal way.
Ideally, Wallumatta Legal will prove to be a model that can be emulated, not just for family law practice, but in all areas of law across the country, says Ghezelbash.
"This not-for-profit, fixed cost, low-bono model, where you can create a self-sustaining business with modest fees, has potential to add significant capacity in terms of available legal services, and particularly for the 'missing middle' we target.
"The goal is for Wallumatta Legal to become a national point of reference for facilitating and setting up similar initiatives around the country."
Apply to Wallumatta Legal via the Contact Us portal at www.wallumattalegal.org.au or by email, info@wl.org.au.