One hundred years ago the first regular radio broadcasts crackled into life first from The Hague, and then from Pittsburgh and Madison Wisconsin in the USA while our own Dame Nellie Melba sang in Britain's first official broadcast on 15 June 1920.
Music, election results, Bible readings and even the news reached audiences: Dame Nellie heralded the new age from wireless pioneer Guglielmo Marconi's experimental studio, singing Home Sweet Home and the national anthem. By 1922, as stations popped up all over the globe, the radio flame was well and truly alight.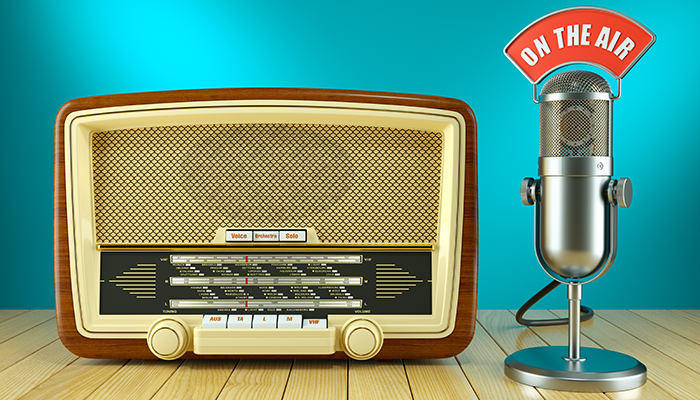 Today, despite the irreversible disruption of the digital revolution and the havoc caused to other traditional forms of media like print and television, radio continues to not only survive but thrive.
It expands, adapts, evolves, ever resilient.
Today in particular, World Radio Day, I'm reminded how radio played a crucial role in my own experience of the recent NSW south coast bushfires (see my story below), but also how underestimated and undervalued this deceptively simple technology continues to be in our lives and to multitudes around the world.
Radio is reinventing itself in diverse ways – consider the popularity of podcasts – and growing audiences, proving it is not yet joining the ranks of fading 'legacy' media.
According to UNESCO, radio reaches the widest audience around the world and remains a powerful communication tool and low-cost medium.
The vast majority of audience surveys from the past few years also demonstrates growth, or at least stable audience numbers. Radio is beyond technology too when it adds streaming services or on-demand programs to the mix.
While our phones and internet did not deliver – the radio was always there and it performed a vital service as well as created a feeling of community.
The rejuvenation and excitement around radio is not only the effect of evolving technologies, but because of an explosion in audio creativity which is capturing the imagination of diverse and new audiences.
Podcasting numbers in many countries have doubled in just three years. Ground breaking popular podcasts like Serial, This American Life and Radiolab are mixing golden age radio forms like serials and drama – thought to be extinct since the 1950s – with investigative journalism. It's a new era for playfully crafted audio stories.
Whether its podcasts, web radio, streamed services or traditional AM, FM or Digital Radio, radio is alive and well 100 years on. On a global level, radio remains the most widely consumed media. On a local level, its many voices are being heard and provide vital information, ideas, companionship and entertainment to millions.
Off the grid but on the air
December 31, 2019 Wallaga Lake NSW
It's 11am, New Year's Eve, Wallaga Lake, NSW far south coast. I am here to bring in the New Year with close friends. The daylight has not yet arrived for us as we wait for news through dense smoke and falling ash.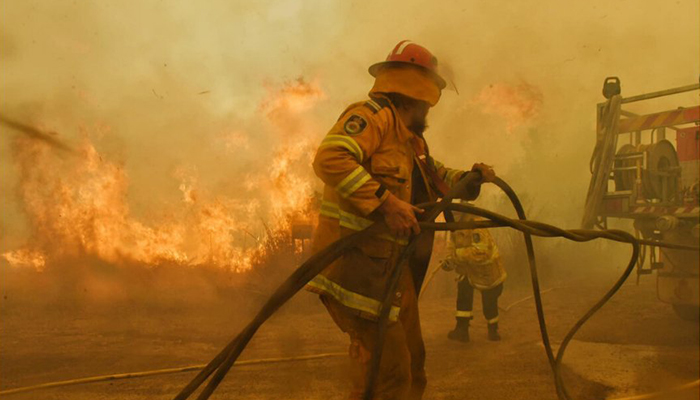 Lifeline in a crisis: ABC Bega provided much needed information for south coast communities during the recent bushfires. Image credit: @NSWRFS/Twitter Photographer: Nick Moir.
Fires are raging to the south, north and west of us and on this disturbing day our mobile phones are our only link to the outside world.
We move about in the dark seeking the best signal, holding them close as we search for better news or just reassurance. For now, text messages ding with instructions: pack the car to evacuate; check the Rural Fire Service – online, Facebook and Twitter; subscribe to the region's updates. We follow these messages for the few hours we still have remaining to access them and until power and electronic connections eventually go dead. We make plans to flee to the local beach if fire should come.
The day's events underline how dependent we have become on electronic communications, the phone tower and the grid, all incapacitated in the December and January fires.
For over five days the network and power was out while we stayed with friends near Bermagui, until finally we evacuated by road through a still-smouldering, devastated landscape.
While our phones and internet did not deliver – the radio was always there and it performed a vital service as well as created a feeling of community.
Taking turns to listen in our cars, we stayed connected to the outside world and each other. Changes in fire direction, evacuation information, callers stranded because they had no diesel found listeners who might help when they called the local ABC station to chat.
ABC Bega filled the communications blackout for us, with many ABC journalists doing their bit to help in this unprecedented emergency by returning to studios or accompanying the fire services in the field.
We would have been in the dark for much longer than that first day of the blackouts if it had not been for the radio and the broadcasters who could still reach us through word and sound.
Dr Virginia Madsen is the Director, Centre for Media History, Convenor Radio, Department of Media, Music, Communication and Cultural Studies.