Anne Boleyn, Henry VIII's second and most infamous wife, would seem to be the ideal subject for opera.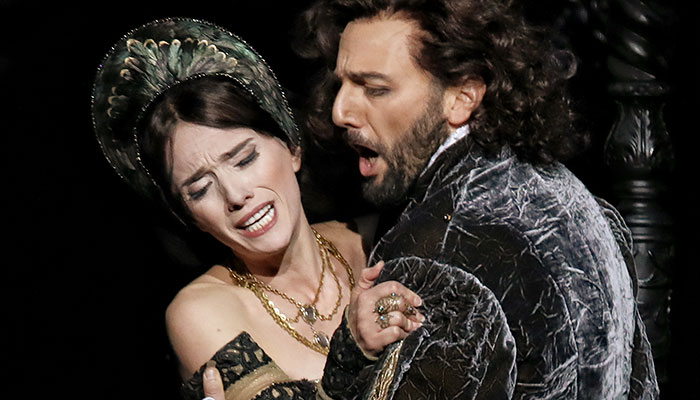 Tragedy: Ermonela Jaho as Anna Boleyn and Leonardo Cortellazzi as Lord Percy in Opera Australia's production of Anna Bolena at the Sydney Opera House. Photo credit: Prudence Upton.
The "other woman" who so entrances Henry that he's prepared to do almost anything—split from the Catholic Church, for example—to have her, only to behead her on trumped-up charges of adultery and incest only three years after their marriage, the dramatic story of Anne Boleyn has captivated the imaginations of audiences for five centuries.
The 2019 Opera Australia production of Donizetti's 1830 Anna Bolena (the Italian rendering of Anne Boleyn) reflects the ongoing appeal of Anne Boleyn and, especially, the fascination her story has exerted upon women.
In the first scene, an elaborately dressed young female tourist dances around the revolving stage as images of the modern skyline of London are constructed and deconstructed. A flower is left on the stage, evoking the flowers that are still left on the grave of Anne Boleyn in St Peter Ad Vincula in the Tower of London on the anniversary of her execution, 19 May, every year.
At one point, Anna Bolena (played by Ermonela Jaho) herself appears as one of the group of women who seem to be visiting London in the future. In this digital-heavy, consciously modern and self-reflective production, even Anne Boleyn seems to recognise her ability to endure.
Anne was a real woman, executed on the flimsiest of evidence, by the man she married.
Donizetti's Anna Bolena was his first international success, and he wrote to his wife after its premiere in December 1830 that audiences seemed to go mad for the piece. The audience attending the production on Saturday 13 July at the Sydney Opera House seemed to agree: the applause was long and rapturous, especially for Jaho's finely controlled and impressive performance as Bolena.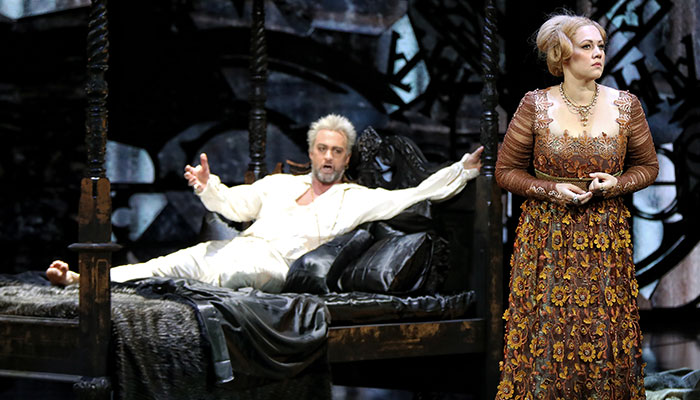 Victims: Carmen Topciu as Jane Seymour and Teddy Tahu Rhodes as King Henry VIII in Opera Australia's production of Anna Bolena at the Sydney Opera House.
Anna Bolena is the first of Donizetti's so-called Tudor Queens trilogy, and one hopes that Sydney-siders will soon have a chance to see both Maria Stuarda (Mary Queen of Scots)and Roberto Devereux (which takes as it subject Elizabeth I) in subsequent years.
Donizetti fudges his history wildly, especially in his handling of the circumstances of the historical Boleyn's fall (and in small details, such as changing Henry Percy's name to Richard, perhaps to avoid the problem of too-many-Henrys).
However, in shortening and simplifying the story, Donizetti underscores the tragic dimensions of the story. Carmen Topciu is particularly good as Henry's soon-to-be third wife, Jane Seymour, and the scene in which she confesses her guilt to Anna is the highlight of the second act.
As Anna forgives Jane for her affair with Henry, the two women recognise that they are both Henry's victims.
Fittingly, perhaps, Teddy Tahu Rhodes as Henry is far less dynamic. Henry is costumed as a cross between a contemporary lounge lizard and a Tudor king, and one is left wondering why Jane has been consumed with such a desperate love for this bombastic, tiresome king who can't quite seem to keep his shirt done up.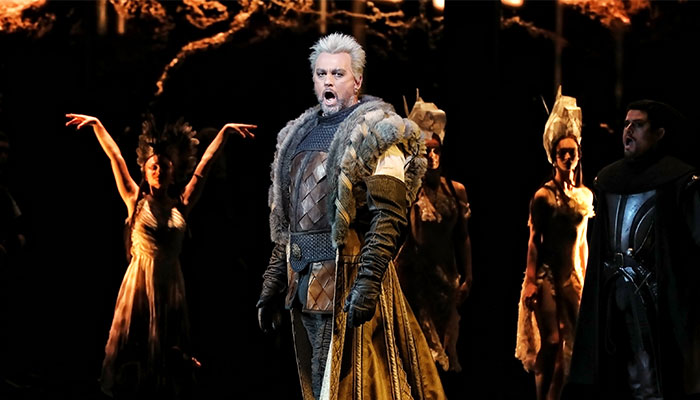 Brutal: Teddy Tahu Rhodes as King Henry VIII in Operat Australia's 2019 production of Anna Bolena at the Sydney Opera House.
By contrast, Leonardo Cortellazzi's Percy is a worthy romantic partner for Anna; as tragically romantic and loyal as any unhappy queen would desire. The production's incorporation of digital imagery is particularly effective in the final scene, with a blinding flash of white light making visceral the sudden violence of Anna's decapitation by sword.
As the final notes of the opera are being sung by a post-mortem Anna, the signature of Anne Boleyn herself - "Anne the quene" - (the early modern spelling of queen) appears in red lettering on the stage. It is a moving reminder that these people lived and died. Beyond her capacity to inspire great flights of operatic imagination, Anne was a real woman, executed on the flimsiest of evidence, by the man she married.
Anna Bolena is on at Sydney Opera House until July 26. 2019.
Dr Stephanie Russo is a senior lecturer in the Department of English, Macquarie University.