First, there was drought. Then bushfires, followed by floods. Now, there is the coronavirus pandemic, where contamination and transmission fears are compounded by business and financial stresses and fears about the future – our own as well as the nation's.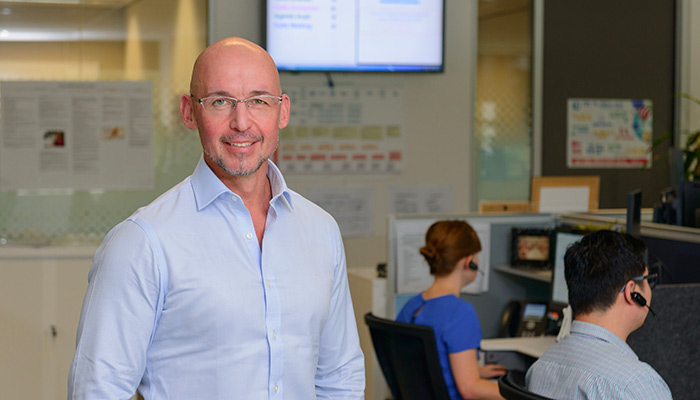 Help is at hand: The Mindspot clinic at Macquarie offers mental health support on the phone, online and on social channels, with 4000 people going to their website every day right now says Professor Nick Titov (pictured).
People can't connect – or grieve – in the same ways. We may have kids at home or parents isolated elsewhere. Our daily routines have changed, meaning the rhythms that have traditionally kept us progressing smoothly, focused and steady, have been turned upside down.
It's not surprising then that, in its eight years of operation, online mental health clinic MindSpot has never been busier. Developed by a team of mental health professionals and led by researchers from Macquarie University in partnership with the Australian Federal Government, the clinical service has had a 100 per cent increase in web visits and up to 75 per cent more social interactions. More than a quarter of a million people are accessing the Instagram and Facebook advice every week and about 4000 are logging onto the website each day, on top of a large volume of phone calls.
It may not feel like it, but things will return to normal. Have confidence: maintain your long-term goals and think about enjoyable things to do each day and week.
MindSpot Executive Director Nick Titov said users span the broad spectrum of society. Beyond emergency and health, they include non-traditional frontline workers, such as taxi drivers, supermarket employees, parents and people experiencing racial abuse.
"The increase in anxiety and concern is normal," he says. "A lot are just keen to learn how to manage their own conditions, to manage reactions and concerns. There are also a lot of people who have underlying existing mental health symptoms who are being very careful to look after themselves."
Resilience tips for every day
As we settle into what Professor Titov describes as our "new normal", he says there are several achievable tasks we can do daily in order to practice resilience.
"From the work we've done and all the clinical research that has been conducted, we know that there are lots of daily habits and routines that we all have. Some are fantastic and help build resilience and others chip away at it," he says.
The MindSpot team is focusing on the former, releasing a list of top 10 tips for coping with COVID-19 and producing complementary daily Facebook and Instagram posts designed to remind people of the importance of healthy daily routines, social connections, clear thinking and fun activities.
The list is now being used by the Australian Government and includes:
Stay informed with the right information – from trusted sources such as ABC Radio and the Australian Government Department of Health or World Health Organisation websites.
Understand history The predictable course of infectious disease events such as SARS, Ebola, HIV, hepatitis and measles runs from scepticism to attention to panic to reality to return to normality. Remind yourself of these patterns (stock markets and supermarket shelves are good indicators of where we are) in order to plan for the future.
Be active A good antidote to stress is to get active and organised. Make plans and write your list of what you need to buy, organise or set-up, and get on with doing it. Tick off each item and turn your 'To Do' list into a 'Ta-Da' list. Talk with family and friends about your plans, and if possible, help them get organised.
Balance your thoughts Dark brooding thoughts are not always true and can stop you doing things that can help. Balance a negative thought with a realistic thought: ask yourself what a friend would say in the same situation, or what evidence you have that you won't cope.
Disconnect Give yourself permission to switch off 'noise' such as social media, news, radio and even people. Check reliable news sources once or twice a day, but otherwise replace 'noise' with things that can help you, such as music, entertainment, games, meditation or healthy routines such as tidying your room or calling loved ones.
Be kind to yourself Remember to be gentle to yourself and others. Most people are good, kind, and sensible: they are probably as stressed and worried as you are and reaching out will not only help them, but help you feel good about yourself.
Keep looking forward Know the saying, 'this too shall pass'? It may not feel like it, but things will return to normal. Have confidence: maintain your long-term goals and think about enjoyable things to do each day and week. Bring others into your plans; they might also benefit from thinking about the future.
Professor Titov hopes the tips will "gently nudge" people to pay really good attention to their physical and mental health.
"We've all dealt with challenging situations in our lives and, particularly when it might feel like it's all getting on top of us, we have to remind ourselves and remind each other," he says. "None of it is rocket science. A lot of skills are things we've learned in our day to day life. People are already resilient, but this is a balancing point, a reminder to take a deep breath, ground yourself and focus on what you can control."
For more information or if you are concerned about your emotional wellbeing, visit www.mindspot.org.au
Professor NIck Titov is Executive Director, MindSpot, MQ Health and Professor, Department of Psychology, Macquarie University.