Sydney was a huge culture shock for Dr Alice Chik when she arrived here from Hong Kong a few years ago. She had expected a city of people of predominantly Anglo-Saxon heritage. Instead, she found a cultural melting pot.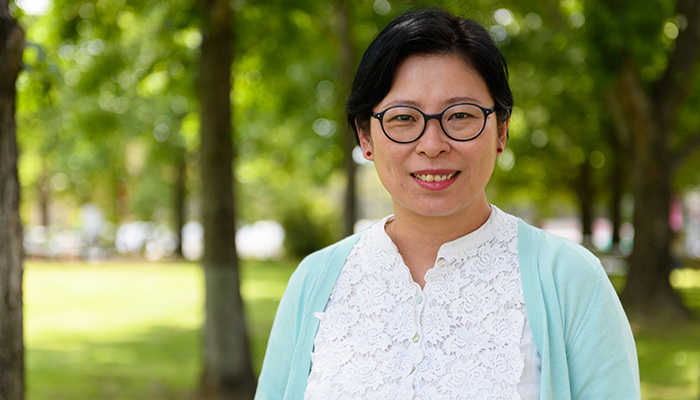 Word travels: Dr Alice Chik is the author of a new book exploding stereotypes that languages are spoken in cultural ghettos of Sydney.
"It's so cosmopolitan," she says. "I didn't realise it at the time, but Sydney is among the most linguistically diverse cities in the world and its diversity is its strength, and hallmark."
More than 300 languages are spoken by residents of Sydney, according to Australian Bureau of Statistics census data. More than half (51 percent) of students in government schools have a background of at least one or more languages other than English, as do a third of their teachers, Department of Education statistics show.
Chik, a Senior Lecturer in Educational Studies at Macquarie University, is the lead editor of Multilingual Sydney, a new book that explodes the stereotype that languages are spoken in cultural "ghettos" around the city. The authors redraw the map of Sydney's diverse languages and discuss the roles of languages in education, health and community services. The book will be published in mid-November by Routledge.
The four most linguistically diverse suburbs in Sydney are Regents Park, Haymarket, Haberfield and Parramatta
"Until now, most of the research in this area focussed on Melbourne," Dr Chik says. "Our book explores new ground because it focuses on Sydney. And it shows different languages are spoken right across the city, not just in the stereotypical areas of Chinese in Chinatown or Italian in Little Italy in Leichhardt."
The four most linguistically diverse suburbs in Sydney are Regents Park, Haymarket, Haberfield and Parramatta, says Chik. And with Thai, Mandarin, Indonesian, Cantonese and Korean spoken in Haymarket, it's now become "Asian town" rather than just Chinatown.
Haberfield has replaced Leichhardt as the true 'Little Italy' with one in five residents speaking Italian, while Indian languages are now the fastest growing language group in Sydney.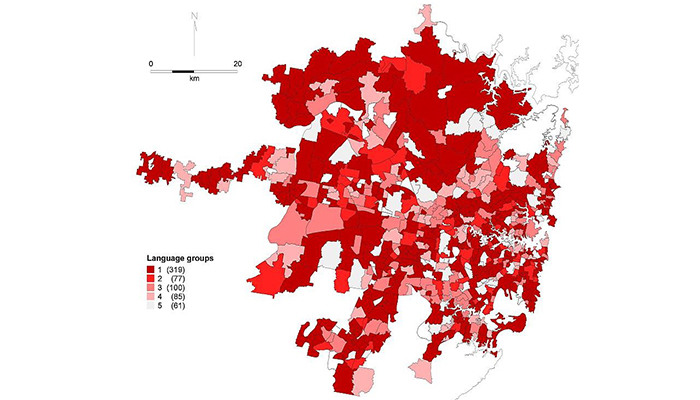 Who speaks what, where?: A map of Sydney showing the most linguistically diverse areas in dark red.
Chik edited the book with Macquarie colleagues Dr Robyn Moloney and Professor Phil Benson who are all part of the Macquarie Multilingualism Research Group. The book, to be launched at the State Library on December 15, grew out of a symposium funded by the Human Sciences faculty, titled 'Multilingual Sydney: Human Sciences Perspectives on New Urban Diversities' held in November 2016.
At the symposium, Macquarie researchers and other academics from NSW universities as well as community leaders presented their research and new ideas. These presentations morphed into chapters in the book.
Schools need to do more
One important finding to come out of the book is that the NSW Department of Education is doing little to mine Sydney's rich linguistic resources, says Dr Moloney.
"The economic future of NSW lies here in our diversity of languages. Students need another language if they are going to have a career involved in global trade, politics or economics," she says. "But NSW is going to be left behind by the other states, if it doesn't change the way we teach languages in school."
Currently in NSW schools, the minimum language requirement is only 100 hours of language instruction, other than English, in Years 7 and 8. Then only seven per cent of HSC students study a second language.
The comparison with Victorian students is stark, Dr Moloney points out. Students in Year 1 onwards receive two hours a week in language education for 10 years.
"Research globally has already demonstrated the vast cognitive benefits of learning another language, particularly beginning in primary school," she says. "Most countries across Europe are taking this onboard. In New Zealand, they teach Maori. It's time we changed our attitudes to language education in NSW."
Kids missing out
The study of other languages also leads to a deeper appreciation and understanding of other cultures, Dr Chik says, which could change attitudes in children and lead to better cultural integration.
"While it is commendable that the NSW government is funding many community language programs across Sydney which are taught on weekends, many children of Anglo-Australian background are really missing out," she says. "There is a really uneven spread of language education across schools."
Early next year, the Macquarie Multilingualism Research Group is extending their language research to combat racism and is partnering with Ryde City Council on a research project to support the 'Racism. It Stops with Me' campaign - an initiative of the Australian Human Rights Commission.