Nearly 200 whales have died after stranding themselves on beaches in Australia and New Zealand in the past 10 days, leaving scientists at a loss as they continue trying to establish what causes these mass beachings.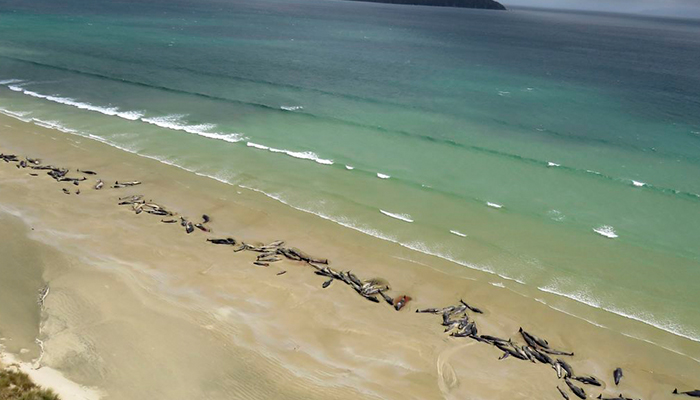 Mystery: The stranded whales were discovered on a remote beach on Stewart Island, New Zealand, by a passing hiker. Credit: The Department of Conservation, NZ.
About 145 pilot whales were first found along Mason Bay beach on Stewart Island, in New Zealand, on Saturday (24 November).
Authorities say half of the pod had died and a decision was made to euthanise the rest as it was too difficult to save them due to their deteriorating condition and the remote location.
In separate incidents on the same weekend, 12 pygmy whales and a sperm whale also beached along North Island in New Zealand.
Just days later, on Tuesday (27 November), 27 pilot whales and one humpback were discovered on Rame Head beach at Croajingolong National Park, in eastern Victoria.
These incidents are not uncommon - in fact, Australia and New Zealand are known as global hot spots for marine mammal strandings.
The Department of Conservation in New Zealand says it deals with 85 incidents a year. In Australia, strandings mainly happen along the south coastline but the federal government says more than 80 per cent take place in Tasmania.
Yet why they occur remains a mystery to scientists.
Macquarie University PHD student Vanessa Pirotta, who won the leading science communication competition FameLab Australia 2018 for her research on whale health - she uses drones to collect snot samples - says there are several theories behind mass strandings.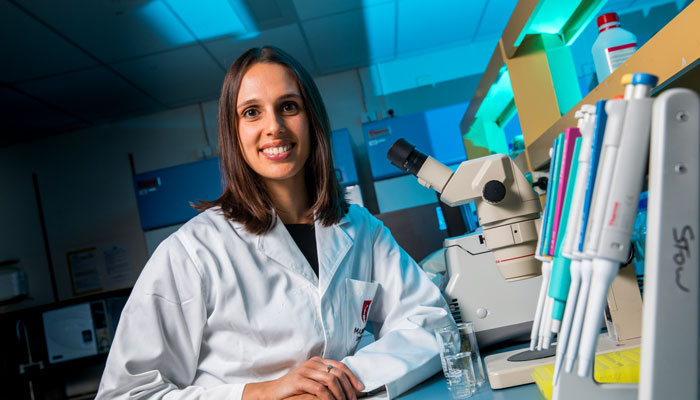 The silver lining: Pirotta says the phenomenon allows scientists to discover more about whale health.
"As scientists, we don't know why whales strand," she explains. "One of the theories is that it may be that it's a navigational problem. These whales are toothed whales, meaning they use echo locations or sonar, so they may have navigated around an area where they have then become stuck.
"Another potential cause may be that they have an underlying illness which we don't know about, that may cause an individual or pods to strand."
Whales are extremely social, adds Pirotta, so it's "not surprising" that they were found in such large numbers.
"Unfortunately, if one strands due to a navigational error or getting lost, it can cause a cascading effect where the group follows the leader," she says.
The chance to discover crucial data
While rescuers often attempt to re-float stranded marine mammals, it can be extremely difficult to save them due to their sheer size, ocean conditions and the threat of feeding sharks.
"Often one of the reasons whales may die is because they overheat as a result of being out of the water," says Pirotta.
"Another reason is because they are very heavy; a pilot whale can weigh up to 3,000 kg. They're not used to feeling their own body weight and this pressure can cause internal injury on their organs.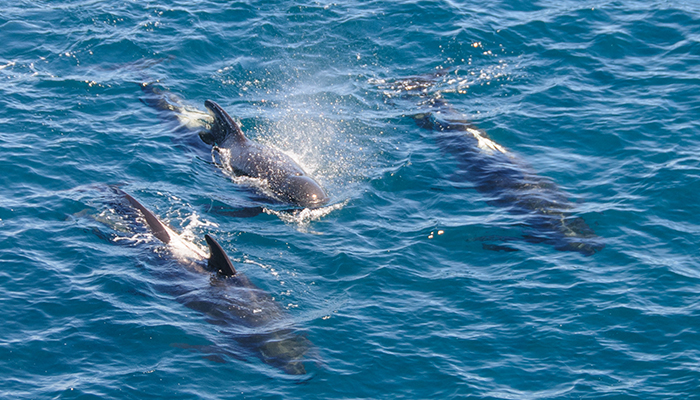 Whale watch: Pilot whale pods number between 20 to 100, though they can congregate in much larger numbers.
Although scientists have yet to determine the exact causes, mass strandings present an opportunity to gain other crucial information about whales and their health.
"One positive is that whales are very hard to access in terms of sampling, so strandings enable scientists and conservationists to collect a lot of biological, DNA sampling," she says.
"We can also carry out an animal necropsy (the equivalent of a human autopsy) which can give us insights into what's in their stomach, their diet and whether there are plastics.
"As a result of strandings we are going to learn a lot more about these whales."