This form of sculpture was pioneered by British artist, photographer and environmentalist Andy Goldsworthy. Ephemeral Art is made with natural materials that are at hand. The artist constructs the sculpture anonymously, and then walks away to leave the piece to be discovered. Part of the appeal of Ephemeral Art is that the viewer accidentally stumbles upon the art, and is left to wonder who made it, and why.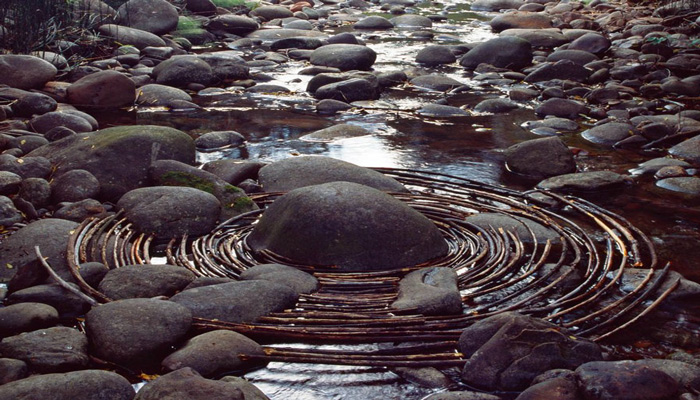 Andy Goldsoworthy is considered the father of sculptures made from raw materials in their natural environment
Goldsworthy works with flowers, leaves, pine cones, twigs and stones, among other natural objects. These are painstakingly arranged into new and often surprising pieces of great beauty and fragility. Ephemeral works are assembled outside, in the natural environment, and are composed of materials found in the location where the sculpture is made. Goldsworthy is considered to be the father of modern rock balancing, where rocks are arranged in seemingly impossible towers. His art has been the subject of a number of documentary films (see https://www.youtube.com/watch?v=dM2fCrUKk7E).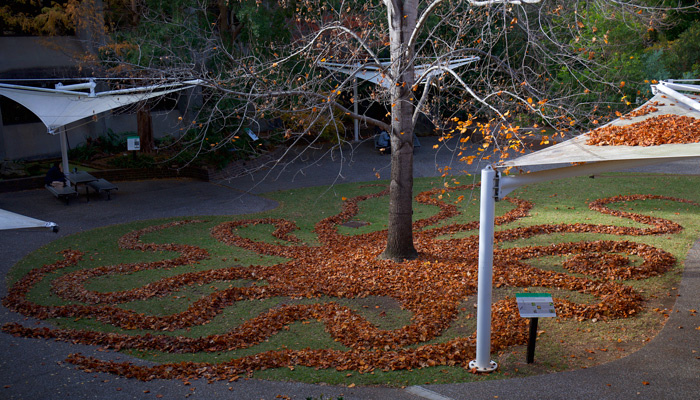 The Kraken Wakes, Ephemeral Art Installation, Biology Courtyard, June 2018. Photo: Sophie Gidley
At Macquarie every year at this time, the Biology Courtyard Garden becomes a site for ephemeral Art installations. The raw materials for the installations in the garden are the fallen leaves of the magnificent tulip tree (Liriodendron tulipifera) that occupies the centre of the courtyard. This ephemeral art is now something of a tradition, with different installations in the courtyard appearing every year for at least the last decade.
Ephemeral Art cannot be bought, sold or traded, and the sculpture merges back into the environment as its materials gradually degrade. It represents the ephemeral nature of all things, but brings moments of joy as the weather turns to winter.