The ball's in your court. Keep your eyes on the ball. Roll with the punches.
The language of sport will be all over the media with the AFL and National Rugby League Grand Finals this weekend. Many of us will recognise phrases in common use in the workplace.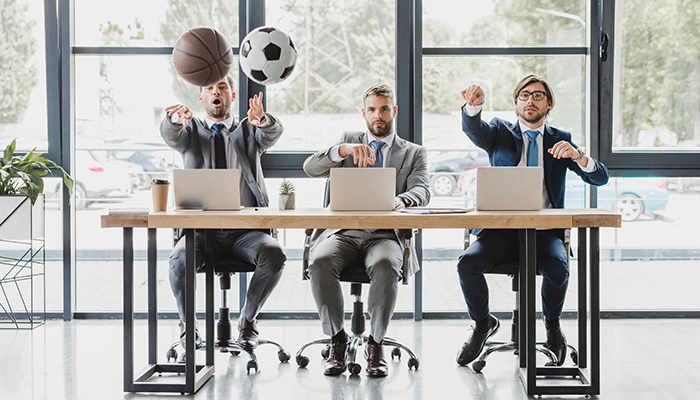 Speech and language in business and sporting environments reinforce inclusion and teamwork, according to Dr Wilson.
Communication between coach and players in a sports team, and between employees and bosses in the corporate world, both deal with the dynamics of team building and leadership, says Dr Nick Wilson, lecturer in linguistics at Macquarie. Metaphors are used interchangeably.
"Phrases such as 'we dropped the ball' or 'we'll deal with it down the track' are some of the many idiomatic sporting expressions we use that refer to deadlines or performance on and off the field," he says.
The language of Rugby study
Dr Wilson was part of team that recorded meetings in over 26 organisations, including private companies, government, hospitals and charities, to observe people's interactions as part of his PhD research at Victoria University of Wellington in New Zealand.
His main contribution involved being embedded in a rugby team, comparing the coach's communication with players in the locker room with half-time media interviews.
In companies and sports teams, the structure of how people speak and the language used is often similar, Dr Wilson says.
"The coach or CEO will look back at what's been achieved over the game or project," he says. "They will pull out the positives and the negatives and constructively criticise where appropriate - and focus on specific individuals only for praise but rarely for reproach in a group setting."
In both environments, the CEO or coach will often use the "we" pronoun, although he or she really means "you".
"This tends to lessen the force of the communication, not to be seen as hierarchical, but to be inclusive and reinforce the fact that you are working in a team," Dr Wilson says. "It's all about having collective responsibility for success and failure."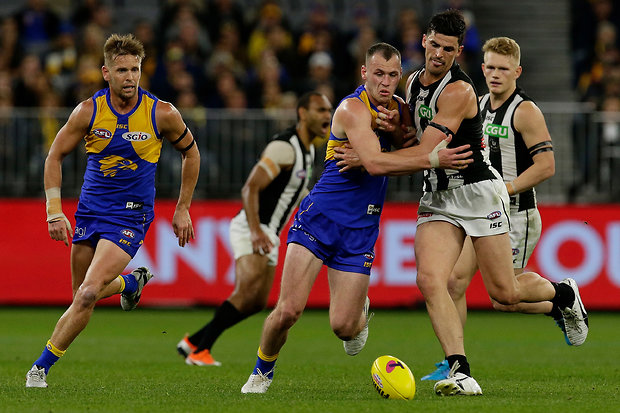 The West Coast Eagles and the Collingwood Magpies face each other in the AFL Grand Final on Saturday. Image: Australian Football League.
Dr Wilson's research helps us understand how language is used to develop leadership, construct team identity, build inclusiveness and negotiate norms of politeness and power within organisations. This is important for an organisation's performance.
In a sport context, the language also underscores values of sportsmanship, by giving credit to the other team. In Australia, this humility can be traced to the tall poppy syndrome, while Maori culture in New Zealand promotes similar behaviour.
Leaders don't say "please"
But this is not just an antipodean phenomenon. This type of team language is similar globally, says Dr Wilson. It's unusual when individual superstars in team sports gain the spotlight, and usually the media and not the team itself promotes their image - and sometimes their notoriety.
In light of the changing gender makeup of sports teams and the boardroom, it's also about the tone of language used and the level of perceived politeness, which can highlight some pervasive gender stereotypes in team and corporate interactions.
"It tends to lessen the edge if a leader says 'please' or 'if you don't mind' instead of a direct command," Dr Wilson says. "Stereotypically, women leaders tend to use this politeness, these hedging strategies, more than men, but often if they do use a direct command they are considered 'bossy'."
Dr Wilson is currently comparing how female and male Macquarie university teams playing contact sport react to injuries in different contexts.
Tile image: NSW Rugby League