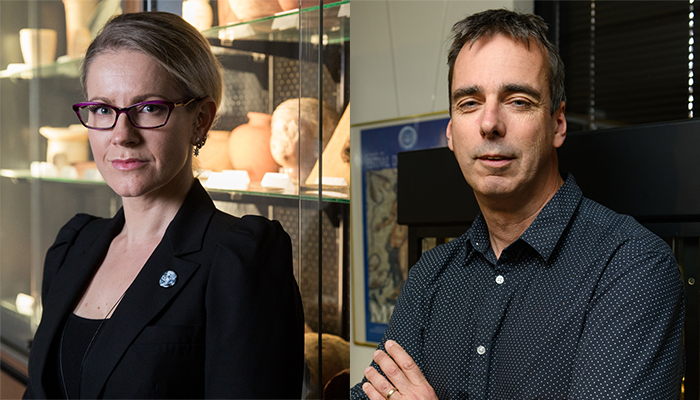 Associate Professor Ronika Power and Professor Ray Laurence.
The Royal Society of NSW is the oldest learned society in Australia, whose aim is to advance knowledge through the encouragement of studies and investigations in Science, Art, Literature and Philosophy.
Fellowship to the Society recognises the substantial contributions residents of NSW who are leaders in their fields have made to these disciplines.
Head of Macquarie's Department of Ancient History, Professor Ray Laurence's research is centred on the study of Roman Urbanism. He also works on the study of age and ageing, as well as roads and communications technologies in the Roman Empire.
"To be unanimously elected to a Fellowship of the Royal Society of NSW is humbling as a scholar based in the Humanities," says Professor Laurence.
"I think this shows the openness of science to scholars who wish to engage across the intellectually irrelevant boundary between Science and the Humanities.
"I am delighted to be elected, and I'm looking forward to engaging with the society's exciting programme of events and to understand what contribution I can make, as well considering how Macquarie University may fully engage with the society's mission to 'expand knowledge'."
Ronika Power is an Associate Professor of Bioarchaeology in the Department of Ancient History whose research focuses on cultural responses to human health and disease, climate change, mass migrations and violence, particularly pertaining to prehistoric periods across Africa and the Mediterranean.
"I'm thrilled to have been elected to the Royal Society of New South Wales. The Society's purpose to encourage studies in Science, Art, Literature and Philosophy mirrors my own interdisciplinary research methodologies, so I am certain I will feel at home amongst the membership," says Associate Professor Power.
"The Department of Ancient History at Macquarie University has a long-standing relationship with the society, and alongside my fellow inductee and new Head of Department, Professor Ray Laurence, I'm extremely proud to continue this legacy."
Subscribe for Media Release updates