The black koel is Guwak, a Yirritja bird from a rocky mountain area of Arnhem Land called Latharra. Guwak travels around as an envoy, picking up songs from the land, taking them to the promised land.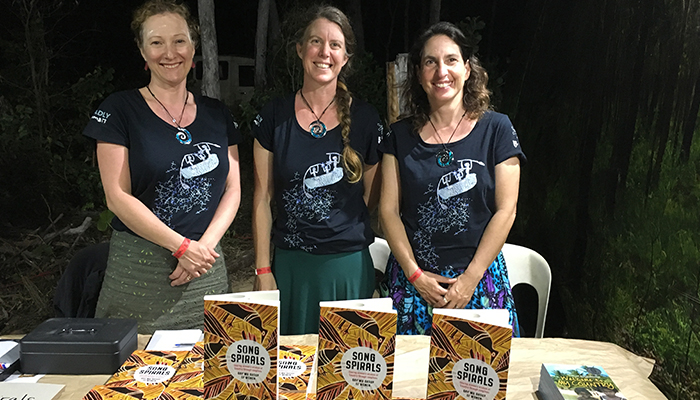 Creative collaboration: Songspirals has been co-written by Yolŋu women and three academics; Associate Professors Kate Lloyd and Sandie Suchet-Pearson, and Associate Professor Sarah Wright.
The song of Guwak the nightbird wakes Yolŋu people and prompts the women to cry milkarri, singing for the spirit of a person who has passed away. Guwak guides the spirit across the Milky Way to the universe and beyond, where their ancestors have gone before. As the women keen the songspiral, everyone remembers and keeps alive their connection with loved ones who have passed.
Guwak journeys south, following the breeze. Guwak says, 'For the one last time you will hear my cry.' The sounds of Guwak will be heard in the River of Stars and on the earth.
**
Guwuk is one of five songspirals shared in 'Songspirals' - a new book released this month by the Gay'wu Group of Women.
This group of women is also known as the Bawaka Collective and the most senior human member of the Collective is Dr Laklak Burarrwanga. Her role as a Datiwuy Elder gives her the rights and cultural obligations to share parts of her knowledge and experiences with others, through teaching, song, weaving and art.
The four other Yolŋu women in the Collective are Laklak's three sisters and their daughter. Ritjilili Ganambarr shares her knowledge through tourism and health, Merrkiyawuy Ganambarr-Stubbs is Director of Yolngu education at Yirrkala School, and Banbapuy Ganambarr the main spokesperson for the family, an author, artist, weaver and teacher. Djawundil Maymuru, their daughter, is a key member of their cultural tourism business Bawaka Cultural Experiences.
Songspirals are the essence of people in this land, the essence of every clan
Associate Professors Kate Lloyd and Sandie Suchet-Pearson from Macquarie University and Associate Professor Sarah Wright from the University of Newcastle are all non-Indigenous human geography academics who have been adopted into the family. The authors have spent a lot of time together over the last 12 years - in North East Arnhem Land, in south east Australia and elsewhere, often bringing their families with them.
Yolŋu women keening songspirals help to bring Country to life, interweaving stories, histories, knowledges, landscapes and identities. These songlines or songspirals are safeguarded by Yolŋu Law, and shared carefully after much negotiation by those who have their custody.
That's why 'Songspirals' is such a groundbreaking and important book.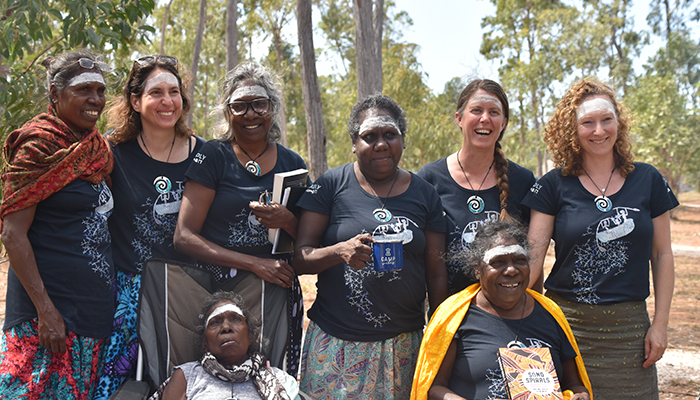 Oral cultures: Songspirals are deemed vitally important in connecting people to place, conveying crucial information which has been passed down from generation to generation.
The book is the third co-written by the group, whose work also includes 18 journal articles, eight book chapters and over 20 conference presentations.
"The women and their words are so beautiful. We all really wanted to do justice to that. The book is not easily defined but it's not an academic tome, rather something open and poetic," says Suchet-Pearson.
The five songspirals shared in the book are Wuymirri - the Whale; Wukun - the Gathering of the Clouds; Guwak - the Messenger Bird; Wititj - the Settling of the Serpent; and Goŋ-gurtha - the Keeper of the Fire.
The unusual and poetic book uses expressive language to share the songs, initially in appropriate Yolŋu clan language, then translated into English. It then explains the stories around the words and some of the context for the song.
The songspirals merge with beautiful and personal stories that take readers on a journey through and with Country, lives and histories, stories of the spirits and animals of the land.
Audio and video recordings of several of the songs are also available on the Bawaka Collective's website.
Songspirals and women's knowledge
Songspirals lie at the heart of many Aboriginal Australian cultures. Many outsiders see these ancient narratives about landscapes as being like maps that are used to navigate across vast distances. They play a larger role however, and are also used to bring to life histories, laws, and information about Country and people, and play a crucial role in people's connection to place.
Research in oral cultures suggests that around the world, songs play a powerful role in linking positions in landscape to collective knowledge, and also help people memorise vast amounts of important information.
Some scientists working with Aboriginal elders have uncovered important records within songs that document landscape changes such as the formation of islands and sea level rise and fall around the coast of Australia, events which date back thousands of years.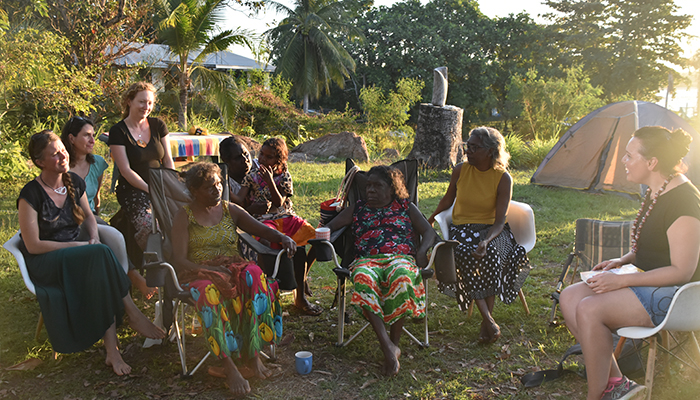 Raising awareness: The book has been released during the UN International Year of Indigenous Languages.
Over many years, various anthropologists have described some of the thousands of foundational Aboriginal Australian stories and songs from different parts of the country, but most of these have been from men's perspectives. Many have also been from the perspective of non-Indigenous authors. The strong collaboration in this book led by the Yolngu women makes this book unique.
The Gay'wu Group of Women share women's perspectives in their book and refer to these songs as 'songspirals' because they are infinite, circling rather than moving in one direction in time and space. Women sing these songspirals to awaken Country and to make and remake the life-giving connections between people and place.
"Songspirals are the essence of people in this land, the essence of every clan," the writers explain. "Milkarri is a chant, a soft tremulous voice deep with emotion, sometimes grief, sometimes joy, pierced with loss and pain, often all of these and more."
Sharing knowledge
The Gay'wu group's formal research project, the Bawaka Collective – has an unusual group of participants; the head of the research group is a place, Bawaka Country – which includes the land, sky, water, living creatures and even weather.
"The idea that non-humans play a central role in research is getting a lot of traction in social sciences now," says Associate Professor Kate Lloyd, a human geographer at Macquarie who has been part of the Collective since it began in 2007.
The book has been released during the UN International Year of Indigenous Languages – and it is hoped that the book may also help younger generations learn their clan languages.
"Even though language is strong in Arnhem land, elders are very concerned that the clan languages might not be spoken," Suchet-Pearson says.
With hundreds of Aboriginal and Torres Strait Islander languages around Australia in jeopardy, having a rich and layered resource that shares and celebrates Yolŋu languages is important.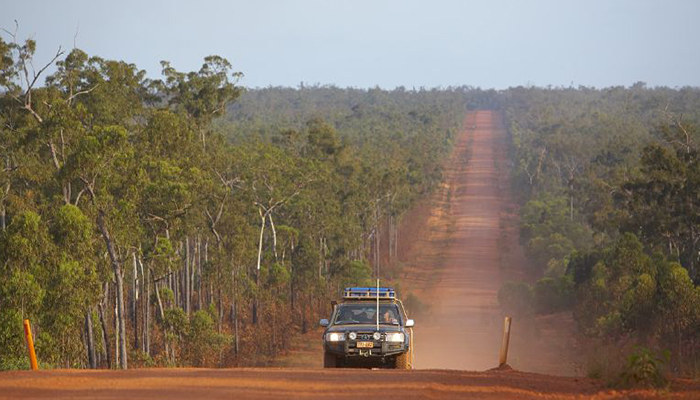 Remote region: Arnhem Land is a vast wilderness area in the north-east corner of Australia's Northern Territory, Photo: Flickr/Ewen Bell.
Both Lloyd and Suchet-Pearson point out that sharing these critical songs is an act of great generosity by the Yolŋu women.
"The women negotiated really carefully within the family about which songs were okay to share and only shared those that they had the authority to share," Lloyd says.
While the translations share some of the layers of meaning, the songspirals convey many far deeper meanings which cannot be shared. They convey important information that has been handed down through many generations, for many thousands of years.
"Sharing these stories is not only generous, but also hands on a responsibility to people reading the book," Suchet-Pearson says. "Readers are responsible for taking care of that knowledge - it's not something to be taken lightly."
Sandie Suchet-Pearson and Kate Lloyd, who are both Associate Professors in the Department of Geography and Planning, were recognised as joint winners in the 2019 Macquarie University Research Awards.