Public health researcher Dr Josephine Chau finds herself in the odd position of having been inspired by vacuum cleaner dust.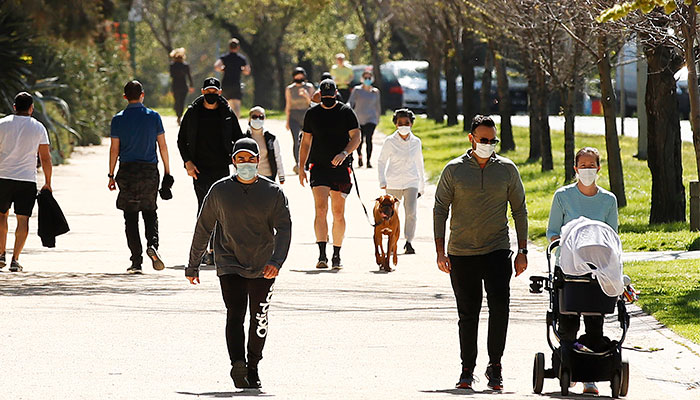 New normal: Pandemic restrictions changed the ways we could get our daily exercise, says Dr Chau.
"I started thinking, if people were willing to get involved in citizen science projects that asked them to donate the dust from their vacuum cleaners or soil samples from their gardens, would they also be prepared to donate their step data?" she says.
"We're looking for an understanding of activity patterns, and how they might have been affected by last year's lockdown.
"We were all limited in the amount of time we could be outside the house, so in many cases that changed the way we could get our physical activity each day.
"Some people have reported they suddenly had time to concentrate on exercise, and made it a priority to go outdoors whenever they could. Others had already been quite active, and it was difficult for them to adapt to a limit."
What the data can tell us
Chau says the high-resolution data collected by wearables will allow the team to study the impacts of restrictions being introduced and lifted in real time.
"While a number of small-scale studies in Australia and around the world have suggested that children and adults both got less physical activity due to COVID-19 restrictions, we don't yet have the big picture of how COVID restrictions affected activity levels," she says.
"Our existing surveillance systems, including regular surveys carried out by the Australian Bureau of Statistics (ABS) and NSW Health, lack the capacity to capture such rapid and dramatic changes."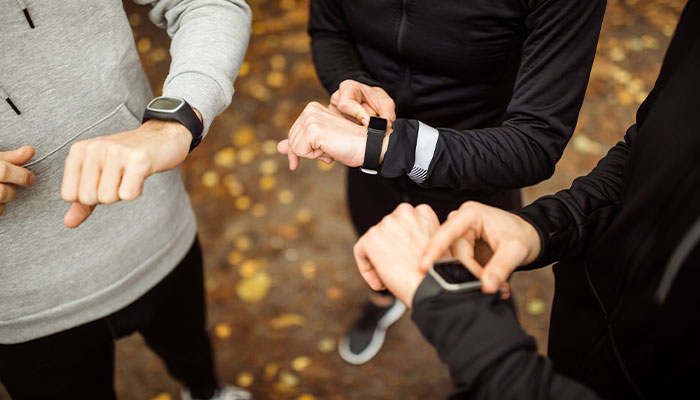 Time is now: The study is focused on high-resolution data collected by wearables.
Current Australian health guidelines recommend that adults aged 18 to 64 get at least 150 minutes of moderate-to-vigorous exercise a week, and people 65 and over should aim for 30 minutes most days.
But according to the physical activity section of the most recent ABS National Health Survey, only about 60 per cent of 18‑ to 64‑year‑olds were reaching that 150-minute target, and about a third of respondents said they were getting less than 30 minutes a week.
With this in mind, Chau says they are particularly interested in looking at patterns of movement during the day and how that shifted during and after lockdown, including whether people were doing their activity all at once, or breaking it up into smaller chunks.
There's a lot we can learn from our behaviour last year that could be of use in helping to keep us mentally and physically well.
"Obviously, these are only people who were already wearing health monitoring devices, but a huge event like this can be a catalyst for behaviour change on the large scale," she says.
"Nobody wants to see further lockdowns, but there's always the possibility it could be necessary again at some time in the future, either due to new COVID variants or other diseases.
"There's a lot we can learn from our behaviour last year that could be of use in helping to keep us mentally and physically well if that were the case, but it could also provide valuable insights into how we can move more under normal conditions.
"Lockdowns are not the only barrier to – or enabler of – exercise and active living. Work, study, family and caring commitments can all prevent us from being as active as we'd like, and likewise disability, illness or injury can add extra challenges. In other cases, we might have the time to exercise but lack the motivation.
"Our lockdown habits could also help shine a light on how and when we exercise on a day-to-day basis, and provide some insights into how we can all build more activity into our lives."
What's involved in the study
Participants must be aged 18 or over, from the Greater Sydney area (including the Blue Mountains and Wollongong) and have been using a wearable device since at least March 2021.
The study will look at four weeks in 2021 and 2022: 22-28 March 2021, 19‑25 July 2021, 13-19 September 2021, and 21-27 March 2022.
Currently, the study can only support Fitbit and Garmin devices, but other platforms may be added if enough people wish to take part.
Only daily step counts, and data relating to sleep, heart rate and activity intensity from these times will be collected, with participants asked to provide their residential postcodes so the results can be broken down by region, and, if they choose, also their age and gender.
Participants will also complete a digital consent form and a short survey about their activity tracker use and physical activity habits before and after the lockdown, then authorise a secure app to connect to their device.
When the information from the target weeks has been downloaded, the research team will confirm has disconnected.
Click here for more information on the study and to sign up.
Dr Josephine Chau is a Senior Lecturer in Public Health in the Department of Health Sciences at Macquarie University