The Age of Trump with its attendant controversy and flat-out spectacle has brought new dynamism to the teaching of American politics, says Macquarie University lecturer Dr Lloyd Cox.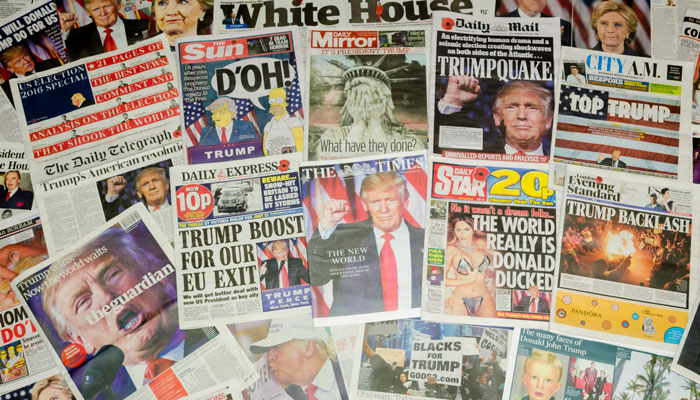 The gift that keeps on giving: Trump's colourful antics make headlines across America and the world almost daily.
"Barely a day goes by when there's not some new tweet or issue or proclamation or drama coming out of the White House, so I think Donald Trump has definitely made US politics more interesting," says Cox, who teaches United States Politics in the Department of Modern History, Politics and International Relations.
"It means you're constantly having to update and basically rewrite every single lecture. It would have been more straightforward for me if Hillary Clinton had won, but it makes it more interesting and I think also students come to class and to tutorials with stronger opinions than they would otherwise have... so it makes it a nice course to teach because people have so much passion. Young people have a big interest in what's happening in the United States."
Mexican wall woes
The areas of keenest interest among students are around Trump's gender and racial politics - such as his determination to secure funding for a wall on the Mexican border, the cause of the current impasse entering its third week - and issues such as his attempted bans on Muslim travel.
Despite Trump's boasting of extramarital affairs and sexual assaults against women, he drew more votes in every religious category
Religion, too, is a point of student curiosity. Despite Trump's boasting of extramarital affairs and sexual assaults against women, he drew more votes in every religious category – from Hispanic and white Catholics to Jews to evangelical Protestants – than 2012 Republican Presidential candidate Mitt Romney.
More generally, students have picked up on Cox's interest in emotions and politics. Trump has been very effective in mobilising collective feelings of humiliation, rage and hatred, which goes at least part of the way to explaining his appeal amongst particular cohorts of Americans.
Entertainment value: Cox suggests Trump supporters are attracted to Trump drama in the same way people enjoy TV shows.
Cox says academics around the world are still getting their heads around why and how Trump won, with their findings further energising the subject area.
"It's been a huge shock­ - in the same way that the polls got it completely wrong, so too did academic commentators. They thought Hilary Clinton was going to win healthily."
Transfixed yet troubled
Cox highlights creeping attacks on US constitutional rights and threats to civil liberties as key reasons for concern about Trump's presidency domestically, noting that the billionaire real-estate developer wields a lot of power for a man who was elected by about a quarter of the US electorate. Internationally, a trade war looms. And here in Australia, on the other side of the world, there's no doubt that many are transfixed by Trump.
"I think a lot of people are preoccupied and attracted to what is happening around Trump in the way that we might be attracted to some sort of drama on TV, because of the entertainment that it offers," says Cox.
"More seriously, I think the US is extremely important to Australia as a country and when you've got someone at the apex of power in the US like Donald Trump, who is extremely erratic, it could have very far-reaching consequences for Australia, especially in terms of negotiating the relationship between our biggest trading partner on the one hand, which is China, and our traditional political ally on the other, the US."