The Sydney Theatre Company's current production of Lord of the Flies refuses to treat savagery and civility as opposites. Using Nigel Williams' script adaptation, it takes its plot directly from William Golding's hugely influential 1954 novel of the same name, in which a group of English schoolboys ends up stranded on a tropical island after being evacuated by plane during WWII.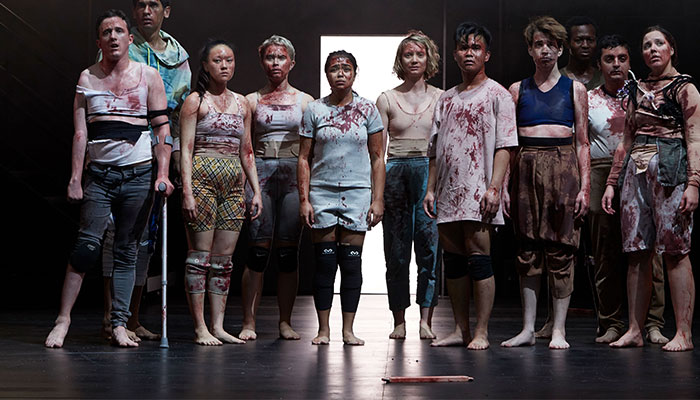 Unexpected and daring: the cast of STC's Lord of the Flies play in Sydney until August 24, 2019.
Unsupervised and unsure when, or even if, they will be rescued, the boys set about trying to maintain a semblance of order. The problem is that while for some 'order' means cooperation and communication, for others it means hierarchy, dominance, and the violent expulsion of dissenters. These dissenters, Simon (Joseph Althouse) and Piggy (Rahel Romahn), are those who dare to look Truth in the eye, and for that they become associated with the 'Beast' the boys fear lurking in the jungle. This Beast, actually the body of a dead paratrooper, represents the horror the boys discover within themselves: their capacity to unleash violence and chaos. As the group splits into warring factions, a climate of brutality and fear escalates until it reaches a horrifying climax.
British class system to blame
Director Kip Williams is adamant that the chaos on the island should not be seen as a descent into savagery resulting from the boys' distance from civilisation. Rather, in his insightful comments in the play's programme, he argues that the boys had already been exposed to brutality by their schooling, the British class system, and the war through which they're living. This interpretation is most recognisable in the play's performances, especially those of the actors playing the privileged boys who form the menacing 'Hunters' faction.
By presenting savagery and tribalism as symptoms of the civilised world rather than departures from it, Lord of the Flies is a play for our time.
Jack (Contessa Treffone) uses his school prefect status to intimidate from the beginning, flanked by his choirboy sidekicks (in particular Roger, played with sinister intensity by Daniel Monks) who instantly set about bullying the "blubbery" and bespectacled Piggy. This decision not to portray a descent into savagery means that these performances became somewhat unmodulated; they were relentlessly terrorising from beginning to end. This contrasts with Mia Wasikowska's more varied turn as Ralph, the boy trying without conviction to lead, and Romahn's Piggy, whose moral force as the play's unpopular truth-teller built impressively as the chaos spiralled around him.
Toxic masculinity?
The young cast captured the bravado and fragility of children completely convincingly: it was easy to forget you were watching adults. The choreography conveyed the frenetic energy of children playing and fighting, and the cast looked exhausted when taking their bows, drained by the demands of embodying childhood frenzy so intensely.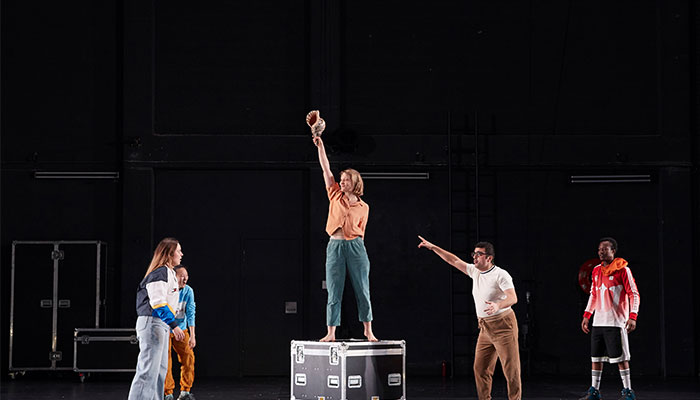 Star power: Mia Wasikowska in STC's Lord of the Flies hold the famous conch symbolising who can speak.
It was slightly harder to suspend disbelief, though, when it came to the actors' gender. In the programme notes, director Williams rightly points to the role of toxic masculinity in Golding's tale: the boys resort to violence as a result, he claims, of their prior exposure to toxic versions of what maleness means. It was hard, then, to know what to make of female and non-binary actors playing the boys, despite the raucous physicality of the performances. I found myself wondering: is this showing that toxic masculinity can draw women and trans people into its value systems, so that they too reproduce its aggressive behaviours?
Or is it using the unexpectedness of female and non-binary bodies playing male characters to remind us that these people are in fact most often the victims of masculine violence and exclusion? It was an intriguing decision, and in keeping with the play's inclusive approach to casting, but it ran the risk of muddling the play's message about gender and aggression.
Unexpected inclusion works
Apart from this, the inclusive casting of actors was a success. On the one hand it was bold, since all of Golding's characters are white English boys; but on the other hand it felt completely unforced. Golding's boys came from different schools and social classes, and had different levels of physical capacity (Piggy is both short-sighted and asthmatic); here we saw them played by actors of different genders, from a range of racial and cultural backgrounds, and some with visible disabilities. Kip Williams proclaims this the casting practice of the future, and I agree that it is refreshing and necessary to see on the stage a more representative portrayal of today's society.
In just under two gruelling hours, the play unapologetically exposes its audience to the Beast that is us.
Golding's desert island is conjured up in our imagination through dialogue and action rather than sets. Elizabeth Gadsby's set design offers us a bare stage: its only major scenery was metal scaffolding that represented the island's elevated peaks, which were occupied with increasing menace by Jack and his Hunters. Props are minimal but necessary. Golding's famous conch to determine who can speak; the pig's head on a stick, hunted by Jack and Co.; the fire that is started and then stolen; and the ominous parachute taken for a Beast, all help trace the uneasy balance between order and mayhem, and between hope and blood-soaked anarchy.
After a brightly-lit opening, Alexander Berlage's atmospheric lighting design comes into its own when night falls on the island. As the stage darkens, banks of fluorescent tubes descend, forming a grid in blue. The grid continually shifts shape, and the tubes later bathe the stage with a nightmarish red. Similarly, James Brown's score and sound design becomes more prominent as the threat escalates. Its unnerving bass drone builds to loud percussive rhythms as the Hunters pursue their collective cruelty to the point of murder.
By presenting savagery and tribalism as symptoms of the civilised world rather than departures from it, Lord of the Flies is a play for our time. Written by Golding in a world recovering from Fascism and war, it now speaks to a time marred by the re-emergent politics of cruelty and exclusion, of social media tribalism, and of small and then large acts of aggression that reflect a world in which power is taken – and handed to – those whose only purpose is self-interest. In just under two gruelling hours, the play unapologetically exposes its audience to the Beast that is us.
Louise D'Arcens, Professor and Australian Research Council Future Fellow, is in the Department of English.
Lord of the Flies is playing at the Rosalyn Packer Theatre until August 28, 2019.