Sydney's skies dumped a month's worth of rain across the city in just a couple of hours on Wednesday, leading to blocked drains, flooded streets, delayed trains, and frustrated commuters.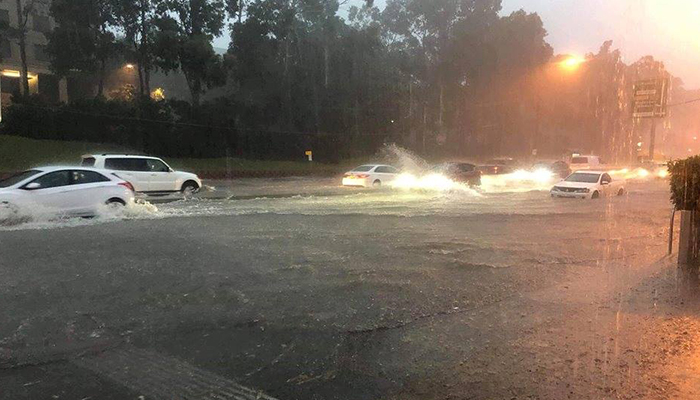 A city struggles: Sydney drivers battle the wild weather on Wednesday morning. Photo: NSW Police
The past week in Australia has seen the worst November storm to hit Sydney in decades, the first ever "catastrophic" bushfires in Queensland, and snow in Victoria.
Get used to it, says climate change scientist Professor Lesley Hughes, who is Pro Vice-Chancellor at Macquarie University; intense rainfall events, along with other extremes such as heatwaves, are becoming more common as the impact of climate change takes hold.
"The Earth system has more energy, in the form of heat, than it did 50 years ago. Thus all our weather now is being affected by climate change," Hughes says.
"It's not a matter of saying that this event or that is due to climate change. Instead, we know that climate change is increasing the probability of more extreme weather. For example, a warmer atmosphere can hold more water, which results in an increased probability of extreme rainfall events, just like we experienced on Wednesday."
While there has been a decline in rainfall across most of southern Australia over the past three decades, there has also been a statistically significant trend in Australia and other parts of the world towards more intense rainfall events, she says.
"Even in places that are getting drier – paradoxically, when they do get rain, it tends to be more intense."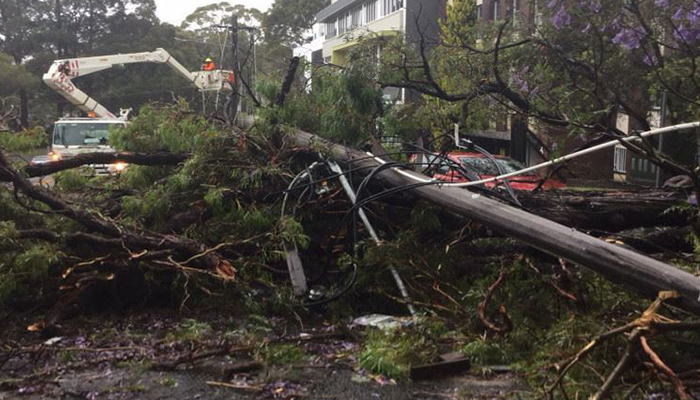 Destruction: A fallen power pole tangled in trees during Wednesday's storm. Photo: Ausgrid
"A lot of the city's roads and rail and drainage and sewage systems were built for climatic conditions of several decades ago, where you might expect a one in 100 year intense flooding event," she says.
"That means they're not necessarily very well suited to the climatic conditions that we're getting now and we'll continue to see in the future."
The changing climate means that we need to adapt our cities, which is very expensive, she says.
"Ironically, many politicians argue that we can't afford to reduce emissions; but as we are already seeing, the cost of adaptation is far, far greater than tackling climate change at the source."