There's a buzz in the air at Waverton's Coal Loader platform, as the historic site approaches the end of North Sydney Council's innovative transformation turning it from abandoned industrial relic to prime public space.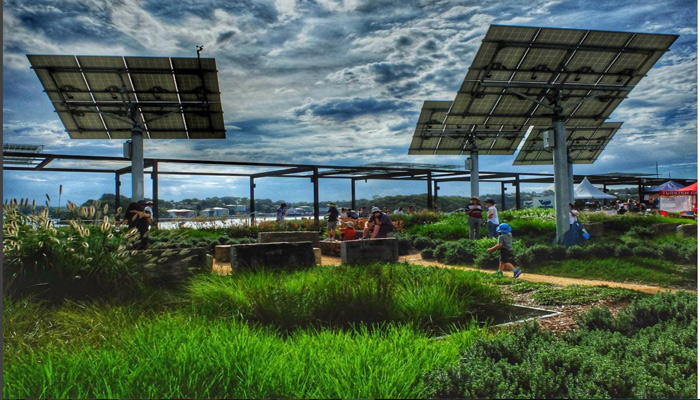 Biodiversity meets urban design: Macquarie's Centre for Smart Green Cities partnered with North Sydney Council to bring the Coal Loader vision to life. Image: Kirsty Beilharz
Community gardeners, market day visitors and Macquarie student groups are now regulars to the Coal Loader Centre for Sustainability – along with a range of beneficial insects like native cicadas, beetles and bees enticed back by judicious planting.
"We've collected information about what insects and other creatures were there a few years back and it's going to be really interesting to see how the communities of urban wildlife change in the area, from insects to birds, lizards and so on," said Dr Peter Davies.
Davies, Associate Professor and acting Head of Department of Environmental Sciences, is part of the Macquarie University Centre for Smart Green Cities and has extensive experience in sustainability roles in state and local government.
"This project will be something of a showpiece, demonstrating how biodiversity can be supported through good urban design," says Leigh Staas, who is part of the Executive Team of Macquarie University's Centre for Smart Green Cities.
"North Sydney Council residents have supported big sustainability projects on this site for many years, and the partnership will allow our researchers and students use the site as a 'Living Lab'. By integrating science into the site, we will be able to monitor how biodiversity changes on the site over time," Staas says.
Solar power and other smart technologies
Along with community gardens, an artisans' market place, a nursery and waterfront parklands, the huge one-hectare green roof includes outdoor classroom space with plant demonstration areas and a colonnade shaded by grapevines and integrated solar panels that will power the whole facility.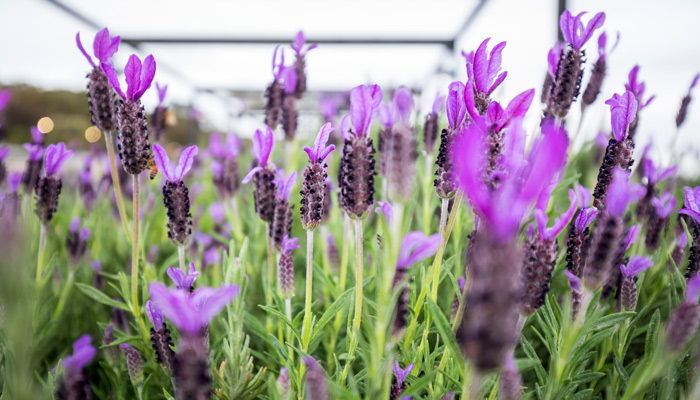 Harbourside innovation: The space is a solar-powered outdoor classroom, community garden, nursery and event space.
There's also an innovative water recycling program that will divert up to 250,000 litres of stormwater to provide water to the site for flushing toilets and to irrigate the community harvest plots.
The joint partnership has been set up on the Coal Loader green roof between Macquarie University and North Sydney Council. The green roof also features smart technologies and sensors monitoring key environmental measures which can be accessed by web portal.
The 'Living Lab' is an open-innovation ecosystem that aims to link the public with sustainability and science and also to test and transfer research into real-life settings.
"The sensors will measure everything from moisture to ambient temperature to rainfall, they will measure the energy generation by the photovoltaic systems at different times and they can also report back on water reuse and recycling," says Peter Davies.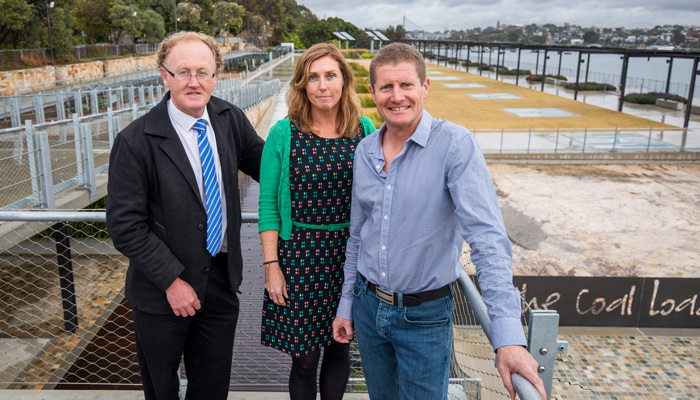 Partners: North Sydney Council's Landscape Architect and Project Co-ordinator David Banbury with Leigh Staas from Macquarie's Centre for Smart Green Cities and Dr Peter Davies, senior lecturer in the Department of Environmental Sciences.
From railway to walkway
Davies is excited by the site's potential for research and teaching across areas like biology, environmental management and urban planning.
For more than seventy years, the Coal Loader at Waverton shunted coal from bulk carrier ships to small coal-fired ships, also sending coal by road to local distributors. A cable-hauled railway system ran beneath the main platform through a series of tunnels, now transformed into an intriguing public walk.
"A series of rooms running off the tunnels are being considered for a range of uses, they could be anything from a brewery to a small theatre space to a mushroom farm," Davies says.
There are plans to document the site's progress using overhead drone photography and other spatial imagery to see how the changing vegetation of the site alters the area's thermal comfort over time, he added.
"We are also going to analyse changes in soil and dust from atmospheric contamination and survey the marine habitat over time."
The site's spectacular harbourside location provides another incentive for its future development. "One of the interesting things about this site is that it backs onto Balls Head Reserve, which is now beautiful bushland despite being completely cleared during Depression-era Sydney," Davies says.
"It's a great example of how profoundly an ecosystem can change over time."