Professor Rick Kefford says these days, women with newly diagnosed breast cancer are encouraged to "thumb their nose at chemotherapy and to live a completely normal and active working and family life".
"I say to my patients: You've just got to get on with it, you're most likely going to be cured of this disease and live a long and happy life."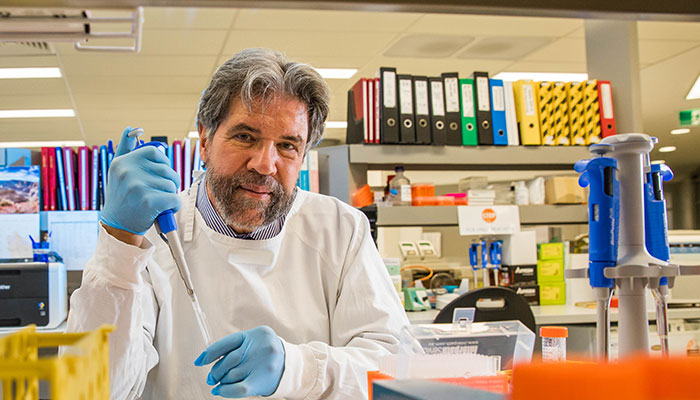 Much improved treatments: Professor Rick Kefford said early breast cancer is curable and mastectomies are increasingly rare as treatment for breast cancer becomes less invasive and more effective.
It's a huge turnaround from the grim outlook for breast cancer patients a few decades ago when Professor Kefford began his career in oncology. He now heads the Department of Clinical Medicine at Macquarie University and is the Head of the Cancer Program which will oversee MQ Health's new rapid access Breast Health Clinic which opens on campus this week.
The Breast Health Clinic is a one-stop shop for anyone with a breast abnormality, such as a self-detected lump. General Practitioners can refer their patients, or patients can self-refer to see one of the clinic's breast physicians. Patients can access the full range of breast cancer diagnosis and treatment facilities at Macquarie University Hospital.
The clinic will have specialist breast physicians and breast surgeons as well as rapid access to medical and radiation oncologists, pathologists, plastic and reconstructive surgeons and a McGrath breast care nurse, all under the one roof with streamlined care.
"Multidisciplinary care is the pinnacle of cancer treatment," says breast surgeon Dr Karen Shaw. "Because the clinic has co-location of multiple disciplines at the same time, there's opportunities for real-time discussions between clinicians about each patient's diagnosis and management."
While she has a patient with her, Dr Shaw can potentially speak to the treating radiologist, the pathologist or the breast physician, she says.
"We all work quite closely and I think that's key to providing good patient care, that is responsive, and reduces anxiety and waiting time for patients."
Patients accessing the Breast Health Clinic will have a streamlined set of appointments organised when they book in, so that if they need a biopsy or specialist breast imaging procedures, wait times are reduced and their diagnostic journey can be expedited, Dr Shaw explains.
80 per cent of lumps are not cancer
Breast physician Dr Katrina Tiller says that she plays a co-ordinating role, making sure that her patients are moving through the different stages of their diagnostic investigations.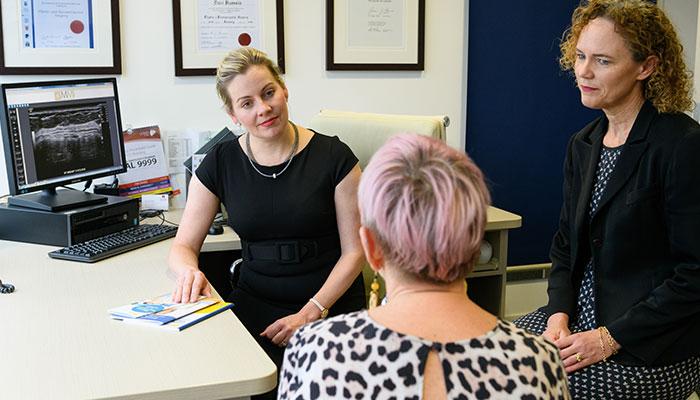 "
One-stop-shop: Surgeon Karen Shaw and breast physician Dr Karen Tiller say the new integrated clinic model is designed to reduce waiting times and anxiety for patients who have breast abnormalities by providing fast access to a range of services.
Working directly with the other clinicians makes a big difference," she agrees.
"Every women who walks into the clinic will be fearing they could have breast cancer, because it's so common, most people know someone who has breast cancer and perhaps they wonder, is it my turn?" she says.
"The reality is, that most women will walk out, knowing that they don't have breast cancer – but for those that do have a diagnosis, they will also have a plan, and know that they are on their way to sorting it out."
With around 80 per cent of breast lumps non-cancerous, there is often no cause for alarm – but there can be delays between finding a lump, having an image or biopsy, then getting definitive results. The Breast Health Clinic will be able to reduce these delays significantly.
"That period following the detection of a lump or abnormality is a very anxious time for women. We know breast cancer is the most common cancer in Australian women, occurring in one in eight women," Professor Kefford says.
"We should be able to provisionally diagnose within 48 hours or so, and where cancer is present, quickly establish a clear plan of management which is presented to the patient. That takes a lot of the load off in terms of anxiety," he says.
Less mastectomy and better cosmetic outcomes
In the last five years, breast cancer surgery has become far less invasive.
"Surgeons focus on preserving normal structures, and try to avoid removing lymph glands under the arm, which can result in lymphoedema," says Professor Kefford.
The result: a much better cosmetic outcome, and mastectomies are much rarer.
"There's a lot more use of oncoplastic surgical techniques for breast conservation and there's more tools available for us - like better pre-surgery scanning, discussions between all the treating health professionals to plan better and giving chemotherapy before surgery – these can all improve breast surgery outcomes," says Dr Shaw.
"The majority of women with early breast cancer now, are cured with surgery, chemotherapy, and then hormone therapy for five to 10 years and then it never comes back
Chemotherapy is sometimes given before surgery to reduce tumour size so that the surgery can be minimised.
The process – known as neoadjuvant chemotherapy – is being used increasingly in breast cancer treatment for women whose tumour biopsy shows that chemotherapy will be part of their required treatment.
"Shrinking the tumour before surgery can make the difference between a patient needing a mastectomy and breast reconstruction surgery, or having a lumpectomy," Dr Shaw says.
The process also helps doctors discover early if the chemotherapy they're using will be effective in shrinking the tumour, says Kefford.
"It may also be a speedy antidote to any cells that have escaped from the tumour early on, and saves waiting another month for post-operative results," he adds.
Surgeons performing mastectomies will often now spare the nipple and outer breast, removing cancerous breast tissue and replacing it with a reconstructive implant, avoiding further surgery.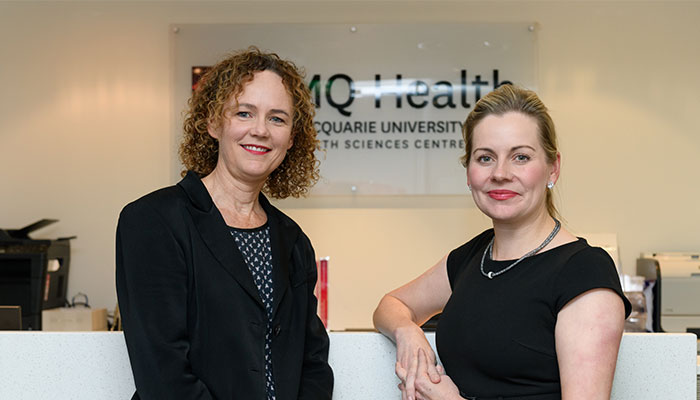 Scars can be hidden in the fold of the breast or near the armpit, and when the scarring heals, the patient appears completely unmarked.
"I had a breast surgery patient in my clinic yesterday and I could not actually see where the scars were," says Kefford.
He says that oncoplastic surgical advances in breast cancer deserve a lot more publicity.
"Knowing that you have a good chance of surviving breast cancer with very little scarring takes away a lot of the fear that many women have about breast cancer," he says.
Chemotherapy and Radiation Therapy greatly improved
Professor Kefford says there has been great progress in radiation therapy for breast cancer.
"MQ Health uses a new radiotherapy technique that allows much more focused radiation to the tumour site so that it avoids any damage to internal structures, particularly the lung and heart," he says.
Over the past five years there's also been great advances in the safety and tolerability of chemotherapy, with new anti-nausea drugs almost eradicating the nausea and vomiting that were the immediate and debilitating side-effects of chemotherapy, he adds. "Some patients can have mild nausea, but it's not a major problem and would almost never result in the need for a hospital admission."
Another serious chemotherapy side-effect is a high risk of infection, because the therapy causes patients to drop their white cell count.
"To counteract that, we use drugs that stimulate the bone marrow to produce white blood cells, overcoming that problem," he says.
Drugs like Pegfilgrastim, invented in Australia and now available on the PBS for cancer patients, have revolutionised cancer care.
"When I first came to Macquarie in 2014, infection and low white cell count was the most common reason for admission for breast cancer patients. Now it's very rare," Professor Kefford says.
Chemotherapy is also over much faster, he adds. "Typically, a course of chemotherapy now would be four sessions over eight weeks, whereas it used to run over three to six months."
Women lose less hair as a result of chemotherapy now, thanks to a scalp-cooling cap that protects hair follicles during the drug infusion.
Fewer than 20 per cent of women receiving the most common form of chemotherapy, will need a wig.
Hair loss is a serious issue for many women because they feel it identifies them as being a cancer patient.
"Many women say how much they hate being treated like they are dying when they're perfectly fit and well," Kefford says.
Metastatic Cancer treatment has improved - but no cure
While early breast cancer is curable in many cases, the prospect for patients with metastatic breast cancer is a different story.
"If it does come back, we can treat it well and many people live very active, successful and comfortable lives for many years; unfortunately though, it is still ultimately incurable," Professor Kefford says. "One of the Holy Grails of ongoing research is to find something that will knock metastatic breast cancer in its tracks, as we've done in metastatic melanoma."
There is definitely hope in this area of cancer however; there have been impressive developments in drug therapies for metastatic breast cancer over the past two years.
The drugs Palbociclib and Ribociclib – both only approved on the PBS in the past year – have more than doubled the progression-free survival of women with metastatic cancer for the 70% of women who have 'oestrogen-receptor positive,' or ER-Positive, breast cancers.
"We have known for years blocking oestrogen would help us attack these cancers, but unfortunately the tumours developed a way to get around that block, often after 12 to 24 months or so," says Professor Kefford.
These new drugs stop tumours from becoming resistant to anti-oestrogen drugs, and have very few side effects.
Macquarie University is one of the sites investigating the use of these new drugs in the early breast cancer setting to try to prevent breast cancer recurrence. Macquarie is currently part of two international research studies examining this, PALLAS and NATALEE.
"Oestrogen receptor positive cancers are the most common type of breast cancer and unfortunately they have a propensity to relapse after quite a long period of time," he says.
One of the more well-known examples is singer Olivia Newton-John who developed bone metastases in mid-2017, after having had her original diagnosis of breast cancer 25 years earlier.
Though it's early days, recent advances in breast cancer treatment are likely to also reduce the number of patients suffering metastatic breast cancer.
"The majority of women with early breast cancer now, are cured with surgery, chemotherapy, and then hormone therapy for five to 10 years and then it never comes back," says Professor Kefford.