More than a quarter of residents of Australian aged care facilities suffered at least one pressure injury in a two-year period, a study has found.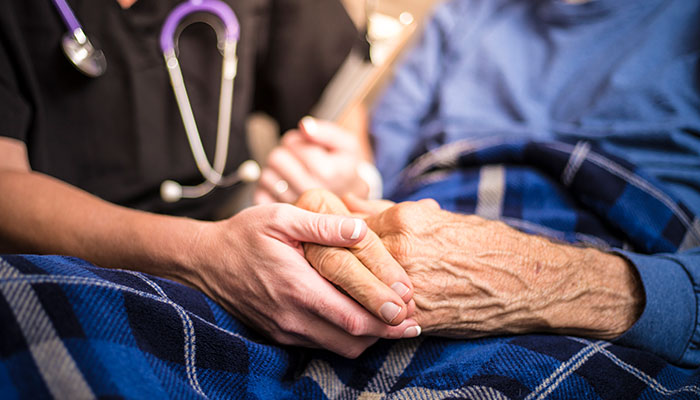 Vulnerable patients: almost 4000 pressure injuries were recorded over two years as part of the Macquarie University Australian Institute of Health Innovation study.
And they were more likely to suffer them if the facilities were in regional or low socio-economic-status areas.
The recently published study by Macquarie University's Australian Institute of Health Innovation (AIHI) analysed routinely collected data from 60 facilities in NSW and ACT relating to 6556 permanent residents aged over 65.
Co-author Johanna Westbrook, director of the AIHI's Centre for Health Systems and Safety Research, said the study showed how data could be used to identify problem areas as a first step to addressing them in a sector under scrutiny for its quality of care.
"Pressure injury is a very prevalent, excruciatingly painful condition which is preventable if it's managed, and it is concerning that we have them occurring in this very vulnerable population," Westbrook says. "Internationally, we've known for a long time that pressure injuries are a major issue in aged care, and among older people in hospitals as well."
Most aged care facilities want to provide good quality care but we need to give them tools to be able to do that.
The Aged Care Royal Commission has noted in its first report that pressure injuries are one of the three indicators in the National Aged Care Quality Indicator Program, the others being use of physical restraint and unplanned weight loss.
Reporting of the indicators will be mandatory from July this year; only 8 per cent of facilities have been submitting the data since it began as a voluntary program in January, 2016. Two other indicators, chemical restraints and falls, are also being considered for inclusion.
"Most aged care facilities want to provide good quality care but we need to give them tools to be able to do that – at the moment, they are flying blind in terms of knowing where their hot spots are for this type of indicator," Westbrook says.
"With this study we were building a model to demonstrate how you can use existing data, which aged care staff are entering as part of regular care, to look at these quality indicators, and feed it back to the facility so they can understand where there are potential outliers, and where they should be targeting interventions."
Buttocks the most vulnerable location
Over the two-year study period to November 2016, 3984 pressure injuries were recorded, excluding those identified within 72 hours of admission. Among the 27.6 per cent of residents, or more than 1800 individuals, who suffered at least one pressure injury, the most common location was the buttocks (specifically the gluteus maximus, 35.2 per cent), followed by the lower back (sacrum/coccyx, 13.5 per cent), foot (12.8 per cent), toe (11.8 per cent) leg (3.9 per cent) and ankle (3.6 per cent).
They can be really very nasty, and work all the way through to the bone.
Among the risk factors for pressure injuries, formerly known as bed sores, is lack of mobility, and Westbrook notes that dementia patients, for example, may be difficult to mobilise, not least because they may not want to move.
Regardless, she says programs should be in place to identify injuries early so that they don't progress through their various stages to become extremely severe and difficult to heal.
"They can be really very nasty, and work all the way through to the bone," Westbrook says.
"The Commonwealth has acknowledged that pressure injury is a very important quality indicator and that is why they are making it mandatory to report, so we are all on the same page in saying we need to do something about this and we need to reduce this rate."
Why data is key in improving aged care
Aged care is in the early stages of adopting "mature and sophisticated" electronic records systems, and lags behind other parts of the health sector in doing so, the AIHI study says.
Westbrook says that the big issue in aged care is the lack of good data about its quality, and strong indicators are needed not only so residents can be better managed and looked after, but so that "we know about the quality in different facilities so people can make better judgements about where they may wish to reside".
"Unfortunately we've still got electronic systems that aren't very well structured and even though this information goes into these systems, there are not very many good models for demonstrating how you can pull out this information and use it in real time, and address the issue of reporting at a national level," she says.
"We need to be looking at the potential for technology to support us in our goal of delivering high quality information and putting a bit of pressure for example on the IT companies who are supporting aged-care facilities to better design their data collection systems in line with the national quality indicators, and to develop more sophisticated reporting within these systems, so facilities should be able to automatically generate these indicators at any point in time."