Japan's ban on international spectators attending the rescheduled 2020 Tokyo Olympic Games could change the whole vibe of the Games.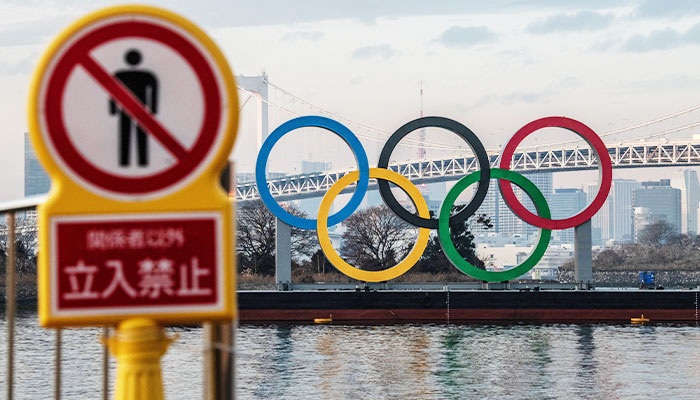 Olympic uncertainty: COVID-19 is putting the postponed Tokyo Games at risk once again, but if they do go ahead, athletes will deal with more stressors than usual.
"There are definitely some athletes who really feed off the crowd, and they are going to need to find different strategies to stay motivated and on-task and rise to the occasion," says Dr Kath Bicknell, whose research in the Department of Cognitive Science looks at embodied cognition in athletes and other top performers.
"In some sports, spectator sounds can help competitors," she says. "In mountain biking, the crowd noise changing can let athletes know that someone has crashed ahead, so they can alter the way they tackle their next obstacle; or informal embedded observers might call out information about their competitors."
Tokyo Medical Association head Haruo Ozaki has warned that rising COVID-19 infection numbers in Japan will make holding the Olympic Games difficult, and local polls show more than 70 per cent of Japanese residents want organisers to postpone or cancel the Games.
Every athlete will respond differently, and that's what makes watching sport so exciting – we never know who is going to win the race when that start gun fires.
If the Games do go ahead in July and August as planned, how will this year's Olympians cope with the lack of access to family, friends and sympathetic supporters, on top of the global COVID-19 pandemic, one-year postponement and all the other disruptions?
"The audience is just one of the many different factors that can positively or negatively influence performance," says Bicknell, adding that these can include anything from the high emotion and spectacle of the Olympics, to poor sleep patterns through stress, jet-lag or just being in a strange environment.
"This year's athletes are also dealing with COVID-related stressors, whether from living in a bubble or from the massive disruptions to training including the year-long postponement and the lack of competition over the last year and a half," she says.
"Every athlete will respond differently, and that's what makes watching sport so exciting – we never know who is going to win the race when that start gun fires."
Numbers game
In 2012, nearly half a million international tourists visited the UK for the London Games, while the 2016 Summer Olympics in Rio de Janeiro saw 1.2 million visitors over two weeks.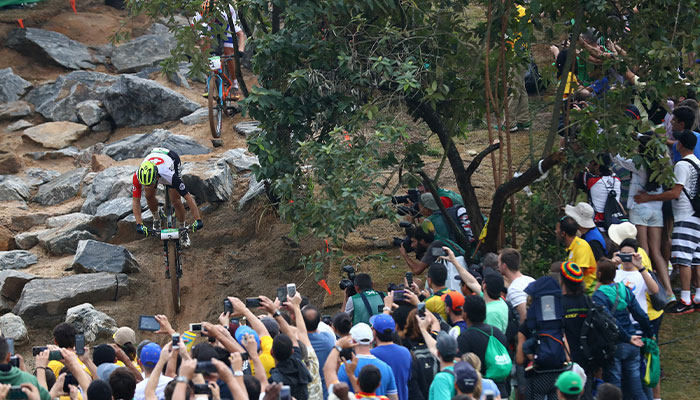 Right noise: Mountain biking, seen here at the Rio Olympics, is among the sports where spectator sounds can help competitors, says Dr Kath Bicknell.
Despite the ban on international visitors due to COVID-19, Tokyo Olympics organisers don't anticipate empty stadiums.
About 4.4 million tickets have already been sold to Japanese residents, although venue capacity decisions haven't yet been finalised and have been complicated by Japan's rising COVID-19 case count.
Local spectators were banned from last week's Olympic torch relay route when it was diverted from the streets of Osaka ­– Japan's second-largest city – to an enclosed park, as the Governor of Osaka declared the precinct under medical emergency.
Using anxiety to spur performance
Bicknell says that some athletes use situations and emotions often considered negative – such as anxiety – to help them perform at their peak.
Top athletes learn to 'down-regulate' anxiety so they can perform under pressure – but some may also tap into and 'up-regulate' anxiety to assist with a heightened awareness and strategic focus that can help to optimise their success, she writes in a recent paper, published in the February 2021 Review of Philosophy and Psychology.
Athletes who succeed at the top levels go through an ongoing process of dealing with change, challenge and fluctuation.
Bicknell's research explores the ways that experts move between intuition and trained responses, adjusting their attention and awareness to act at just the right level in very specific situations.
Athletes who succeed at the top levels go through an ongoing process of dealing with change, challenge and fluctuation, Bicknell says.
Embodied cognition
Dr Bicknell teaches 'embodied cognition and skill performance', an advanced cognitive science unit at Macquarie University which explores the links between mind and body, particularly for highly skilled performers and athletes.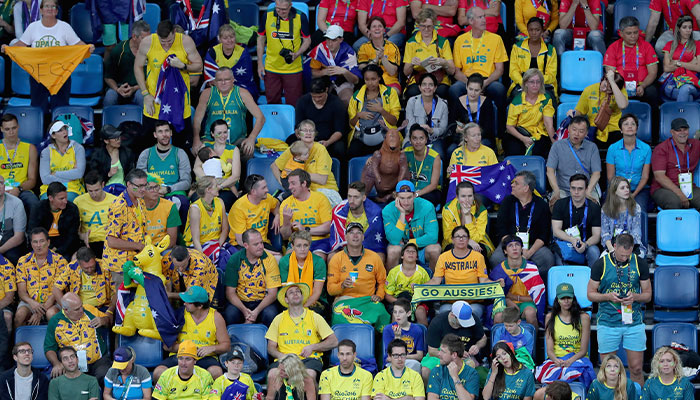 Crowd pleaser: Australian supporters watching the basketball at the 2016 Rio Olympics ... competitors in Tokyo will see no such scene.
Her research with Professor John Sutton, published last year, explored methods to study the ways that experts' 'embodied' experience enables them to train and perform at their peak.
"We're interested in getting a better understanding of how these athletes use their training to prepare them to manage multiple physical, psychological and environmental factors, and to still focus and perform well," Bicknell says.
She says that skill research assumes that athletes gradually progress from novice to expert, and once a person has mastered an expert skill, whether sprinting, cycling or throwing, the skill is relatively stable.
"In reality, skilful strategies and actions are vulnerable to all sorts of instability, such as injury, anxiety, overconfidence, low blood glucose, dehydration, fatigue, menstruation, an intimidating or supportive audience, or simply having a bad day."
Dr Kath Bicknell is a postdoctoral researcher in the Cognitive Ecologies Lab and an Associate Member of the Centre for Elite Performance, Expertise and Training.