When a three-year jail sentence was handed down in Perth last July to a man convicted of causing the death of Indigenous teen Elijah Doughty, protests sprang up in cities across the country fuelled by the hashtag #justiceforelijah.
Like #IndigenousDads and #SOSBlakAustralia – two more recent calls to action that captured engagement in the community – social media gives Indigenous Australians a platform to thrive in solidarity of purpose, says Professor Bronwyn Carlson, Head of the Department of Indigenous Studies at Macquarie.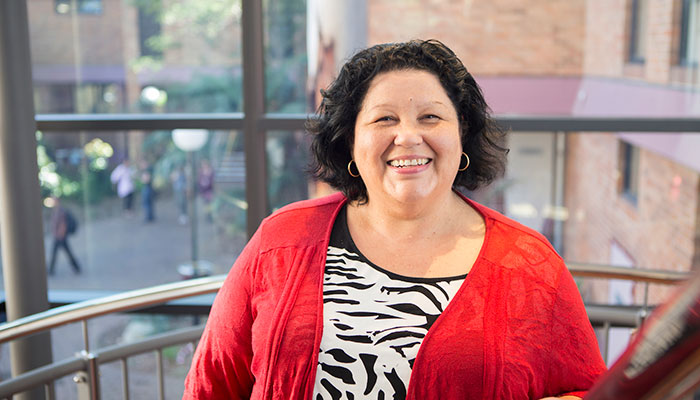 Professor Bronwyn Carlson says it's impossible to understate the power of social media.
Using popular social media platforms during times of controversy such as in the case of Elijah Doughty is a powerful way to change the public narrative and challenge mainstream media, she says.
"In Australia, Indigenous people are extremely adept and conversant with the use of social media across all geographical areas," says Carlson, who is researching how Indigenous people use online platforms like Facebook and Twitter.
In 2016, the Western Australian government was contemplating the closure of Aboriginal communities and forcibly removing Aboriginal people from their homelands. A group of Aboriginal women in the Kimberley, led by Aboriginal activist and organiser Sam Cook, launched the #SOSBlakAustralia campaign. Cook stated that the campaign was an example of how Indigenous people used social media to bypass mainstream media who largely ignored the issue.
The idea of using social media to boost the profile of a cause or send a call to action is not new, but Carlson says it's impossible to understate its power when it comes to giving Indigenous communities a voice.
A tool for political action
In relation to the #IndigenousDads campaign, Luke Person, founder of the rotating IndigenousX handle on Twitter, stated: "The #IndigenousDad campaign was an important demonstration aimed at countering racist depictions and stereotypes, an essential reminder in any 'national conversation' that is going to take place. It sets the conversation tone and reminds us and reinforces the importance of our collective strength and humanity."
"It allows us to bypass mainstream media which has often either ignored Indigenous issues and stories or reported in a very biased manner," Carlson says.
"As a tool for political action, social media sites provide a forum across territorial borders where Indigenous people can agitate, demand political recognition for causes and proffer challenging views."
Platforms like Twitter and Facebook have given new generations of Indigenous people the stage to speak up and share their opinion, she says.
Connected across the world
Carlson often uses social media as a teaching tool in Indigenous Studies. "Students have told me that they have never had Indigenous content on their news feed prior to our classes," says Carlson who has been teaching Indigenous Studies with an emphasis on new media since 2012, with a focus on representation and storytelling.
"I use social media in my teaching as it offers students a way to engage with Indigenous voices by following high-profile social media commentators and Indigenous journalists such as IndigenousX (Luke Pearson and Jack Latimore), Amy McQuire, Celeste Liddle, and Allen Clarke. "
Carlson has also taken her passion for social media out of the classroom.
Most recently she invited Twitter staff specialising in Indigenous engagement on campus to run a user workshop as well as a session on dealing with racially fraught content on social media.
"Social media is transforming the way we communicate with each other and the way in which we are connected to other people at a local, regional, national and global level. Certainly for Indigenous people, Facebook and other social media provide a site of connection to others and allow users to maintain contact and culture across both vast distances and time, increasing social connectivity."