Tennis lovers, footy fanatics and basketball nuts are willing to pay a premium to buy the products of the company that sponsors their team or favourite sports star, according to new research led by Hume Winzar, Associate Professor in Business, Department of Actuarial Studies and Business Analytics at Macquarie Business School.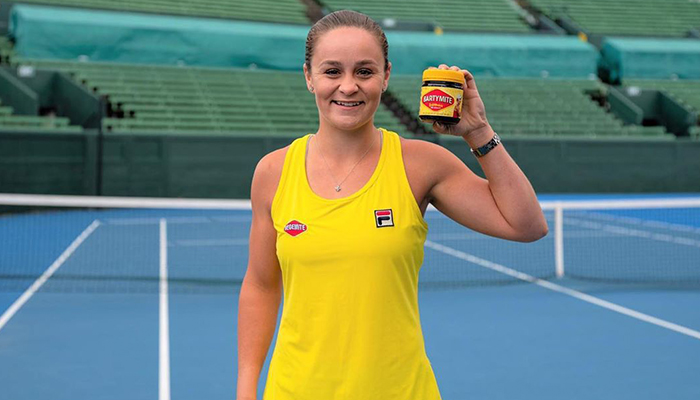 Love her, love Vegie: According to a phenomenon known as the Affect Transfer, Ash Barty's fans should send jars of the new Bartymite flying off the shelves. Image credit: @ashbarty/Instagram.
Further, the researchers found supporters' purchasing power can lift a brand up several places in the marketplace pecking order.
Professor Winzar, Associate Professor Lawrence Ang of the Macquarie Business School Department of Marketing and PhD student Khaled Almaiman developed a new research technique and compared the buying behaviour of rusted-on fans with those people who follow their game of choice without the same level of passion.
"A lot of previous sports marketing research asked simplistic questions like 'would you buy a product from your team's sponsor?' Well, of course you would. So this 'research' naturally reported a high team/brand correlation," says Professor Winzar.
"Companies like Nike, Emirates and Adidas have a lot of money to spend. But they also spend a lot of time and energy trying to ascertain their return on investment (ROI). Of course, they don't share this information, so we had to come up with a different way of measuring ROI.
"We gave our test groups the option of buying branded T- shirts with different designs, fabrics and prices. This reflected a more realistic buying environment. People made their choices, trading off one product feature against another. When we matched the patterns of buying stimuli against their pattern of responses, we were able to calculate the relative value of brand, design, price and fabric. And we can do this for any single person or any group of people," says Professor Winzar.
And the winner is… Sponsorship!
Especially for the effect it has on passionate supporters.
"We found that people who are committed to a particular team will also be committed to an associated brand," says Professor Winzar.
"One of the teams we studied was Melbourne Victory Football Club in the A-League. They are sponsored by Adidas, which sits at around third or fourth in sports attire in Australia, with Nike ranked first. We found that rusted-on Melbourne Victory fans were prepared to pay about 60% more for an Adidas T-shirt over a Nike T-shirt. And this wasn't for a Melbourne Victory T-shirt; just a regular Adidas T-shirt. Even less-enthusiastic Victory fans were willing to pay about 15% more for Adidas over Nike."
Grinners are not always winners
"There is a belief that winning teams attract more sponsorship dollars. While this is probably true for attracting funding, we found associated brand support is not particularly dependent on how a major, popular team is performing. This is truer for higher-ranked brands. Lower-ranked brands can still benefit from sponsoring a winning team.
"In other words, it doesn't necessarily matter if Manchester United is winning. They are still Man U and their associated brands always benefit," says Professor Winzar.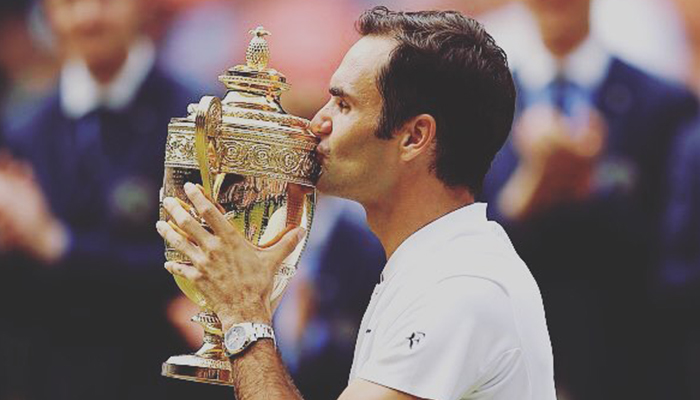 Every Rolex tells a story: Roger Federer, one of the greatest tennis players of all time, has a successful partnership with the Swiss watchmaker. Credit: @rodgerfederer/Instagram.
Whether Man U could make Vegemite popular in England is another question. And while Winzar, Ang and Almaiman haven't looked into this, they do believe they can say how much sponsors should pay.
"One of the outcomes of this analysis is that we can actually quantify the premium people are prepared to pay to be associated with their team's or sporting hero's brands. We can say how much a Federer-branded shirt is worth by estimating how many shirts the 'Fed-factor' will sell, and what people are prepared to pay. This gives you a ballpark figure of how much that brand should pay Roger," says Professor Winzar.
Affect transfer
As an aside, Professor Winzar invokes Federer to illustrate another key principle of marketing as it relates to prominent personalities promoting products.
"Roger is always photographed with his Rolex watch. He makes a point of taking it off before a match and putting it back on afterwards. There is a phenomenon known as 'affect transfer' whereby your emotions towards one object become associated with another object. 'I like Roger. Roger is wearing Rolex. I like Rolex'. This combination of exposure plus endorsement is powerful. And even though people know Rolex is probably paying him, they still transfer the emotion they have for Roger to Rolex."
Similarly, the current marketing of Vegemite as 'Bartymite' aims to capitalise on the enormous popularity of Australia's highest-ranked tennis player, Ash Barty.
With the Australian Open tennis tournament upon us, major sponsor Kia Motors is promoting its ties with the event and its brand ambassador, World No. 1 Rafael Nadal. The Korean auto group is the longest-running key sponsor of the Grand Slam event, with an association that began in 2002 and a current contract stretching out until at least 2023.
Another high-profile sports sponsorship association is US insurer AIG's branding on the iconic New Zealand All Blacks jersey. The company reportedly paid around $80 million for an initial five-year deal in 2012 and renewed it in 2016 for another five years.
The Macquarie Business School team found long-term sponsors, such as Kia and AIG, benefit from their commitment.
"It takes time for the effects of sponsorship to kick in but the effect on fans' feelings and preferences can last even beyond the sponsorship period. We studied a deal where a prominent, long-term sponsor was replaced by another prominent brand. Even two years into the new deal, both brands were held in high regard by fans," says Professor Winzar.
Enemy territory
"We also found sponsorship of an 'enemy' team does not affect brand attitudes and preferences. For example, if I love Sydney FC (sponsored by Puma) and I hate Western Sydney Wanderers (sponsored by Nike), does that change my preference for Nike? Preliminary results suggest sponsoring a rival team does not diminish premium brands in the eyes of fans of competing teams. The story may be quite different for less-well-regarded brands."
"Our new method of measuring the effectiveness of sponsorship based on brand trade-offs - pioneered by Khaled - enables smaller brands to gather the sort of data that the big brands have the resources to gather, and to enter sponsorship deals better informed.
"Similarly, organisations seeking sponsorship can better sell themselves to prospective sponsors by providing empirical evidence on the benefits of collaboration."
Hume Winzar is Associate Professor in Business, Department of Actuarial Studies and Business Analytics at the Macquarie Business School.