This summer's heatwave has seen a rise in the number of people either drowning or experiencing near-drowning incidents, as inexperienced swimmers join the crowds heading to the water to cool down.
Videographer: Sophie Gidley.
Tourists, international students and people born overseas make up a significant proportion of those involved, leading to questions around how we can reduce these tragic statistics.
New research, led by Professor Mark Wiggins from Macquarie University's Centre for Elite Performance, Expertise and Training (CEPET), may help authorities devise stronger strategies.
Their research shows that you are less aware of the risks in Australian waterways if you learned to swim after the age of 11 or if you are an international student.
Males account for the majority of overseas-born drowning deaths in Australia with 81 per cent recorded across the report period.
The Macquarie research also confirmed that swimmers who are more familiar with their environment – whether it be a beach, a backyard swimming pool or waterways such as creeks, rivers and dams – are more likely to recognise inherent risks around water environments.
"We tested people's ability to identify signs of potential risk around waterways and, among our research participants, international students and people who learned to swim later in life were less likely to recognise these signs of risk," explains Wiggins.
"Some of those who missed these 'cues' also reported that they had engaged in behaviour that we would normally class as risky, like swimming at an unguarded beach or in a fast-running or murky river."
Drowning deaths on the rise
New figures show that drowning deaths in Australia are up 40 per cent compared with the same time last year, with an "unacceptable and tragic number of fatal and non-fatal drownings involving international students and tourists" says Royal Life Saving Society NSW CEO, Michael Ilinsky. "Their lack of aquatic-related skills and knowledge and their perceptions of risk place them at greater danger."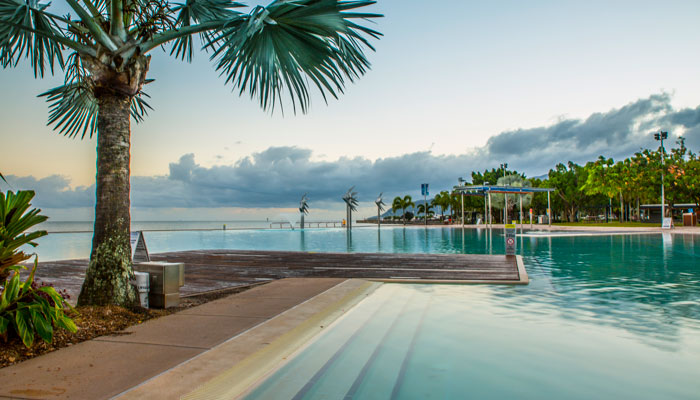 Too many tragedies: Cairns esplanade lagoon, where a Japanese boy, 7, drowned before Christmas.
A 10-year study of drowning deaths in Australia to 2014/15 by Royal Life Saving Australia showed that 762 people (27 per cent of those who drowned during that time) were born overseas.
"Males account for the majority of overseas-born drowning deaths in Australia with 81 per cent recorded across the report period," Ilinsky says. "Swimming ability, peer influence and the undertaking of risk-related activities (swimming outside of flags or at unknown locations) lead to fatal consequences."
Beaches accounted for the vast majority of fatal drownings, Ilinsky says.
On Christmas day, three teenage lifesavers in Batemans Bay on the NSW South Coast performed a dramatic rescue, saving the lives of two Indian men caught in a rip. Another man, born in Korea, drowned at Sydney's Clovelly beach – one of five people who drowned on Australian beaches on New Year's Day.
International students and travellers to Australia could benefit from being given more information about key cues to water safety.
Local governments across Australia are responding, with Waverley Council in Sydney producing beach safety messages in 15 languages, and Surf Lifesaving Queensland issuing lifeguards with safety booklets that can help them communicate with non-English speakers.
But it's not just language barriers that prevent people from understanding water safety messages, says Wiggins.
"We usually make decisions about the risk of an activity through a thinking process called situation assessment or 'sense-making,' where we use signs or 'cues' to interpret our environment; but when you're unfamiliar with danger signs, like murky water or changing currents, you may miss these key cues that are the signals for danger."
An appreciation of environmental risk factors appears to occur mostly through experience, he says; so being exposed to the water frequently, and from a young age, can be an advantage.
Strong-swimming Australians reduce their risk
Most Australians learn to swim at an early age, with many primary schools now offering at least a term of free swimming lessons to children aged seven to nine. Over a million Australians enrol in swim classes each year – and, with 85 per cent of Australians living within 50 kilometres of our coastline, most of us regularly visit our nearby beaches.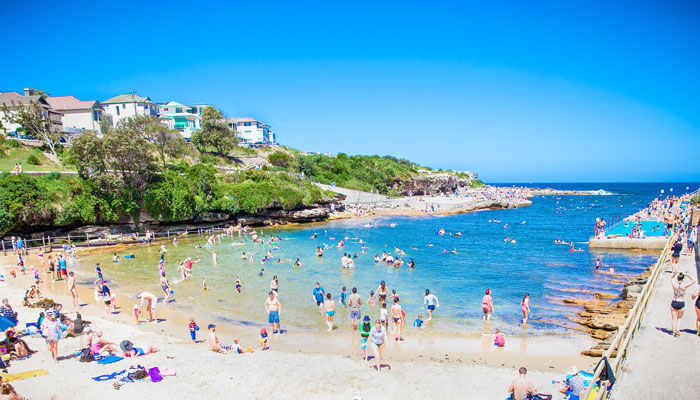 Fatal shores: The death of a Korean-born man at Clovelly Beach was one of five beach drownings across Australia on New Year's Day.
Most Aussies have, since childhood, absorbed messages and habits around safe behaviour near the water. Many of these young kids also become strong swimmers who can knock over a 50-metre freestyle lap in under a minute and instinctively duck deep under dumping waves and avoid beach rips.
The new research shows that the earlier a person has learned to swim, and their implicit knowledge of how to stay safe around waterways, has a big impact on whether they are likely to make safe decisions in later life.
How the research was done
It is often the case that people who get into trouble in the water have unwittingly put themselves in situations that are beyond their ability.
To understand why people get themselves into these situations, and why foreign visitors are more at risk, a team of researchers from CEPET tested 328 international university students' ability to recognise dangers around water environments. They also tested 320 local university students who had learned to swim before age 15 and had completed their HSC in Australia to see how well these students recognised danger signs and risky behaviours around water.
Using a carefully designed online program, the team assessed participants' ability to "pick up" environmental cues related to water safety. The program had participants making snap judgements about different recreational aquatic scenes ranging from beachgoers swimming between the flags, adults supervising swimming children, picnickers by a waterhole, to fishers by the water's edge.
Other scenarios included features like perceived water depth, alcohol, pool depth, temperature and even the presence of pets – all of which can influence the way in which we assess the safety of water-related activities.
"Our study showed that, in comparison to local students, international students have a relatively poorer understanding of Australian water safety cues," says Wiggins.
Learning to swim young an advantage
The Macquarie study included Australian students who had begun to learn to swim prior to their first birthday – but also some who had learned to swim during teenage years.
The team also discovered that the amount of exposure that you have had in the past to water-related activities, is strongly linked to your understanding of water safety cues and likely hazards, some of which are not especially obvious.
Interestingly, the study also showed that people who learned to swim before the age of 11 were better at spotting water hazards, than were those who learned to swim when they were older.
"International students and travellers to Australia could benefit from being given more information about key cues to water safety to help them to recognise situations that are likely to place them in danger," Wiggins says.
The research by Professor Mark Wiggins and Professor Barbara Griffin from Macquarie University's Centre for Elite Performance, Expertise, and Training (CEPT) and Sue Brouwers from Transport NSW was supported by Royal Life Saving NSW and was published this month in the Journal, Human Factors.