World-first research by Macquarie University physician Professor Alvin Ing has revealed the proportion of people with COVID-19 who are asymptomatic may be far higher than previously understood.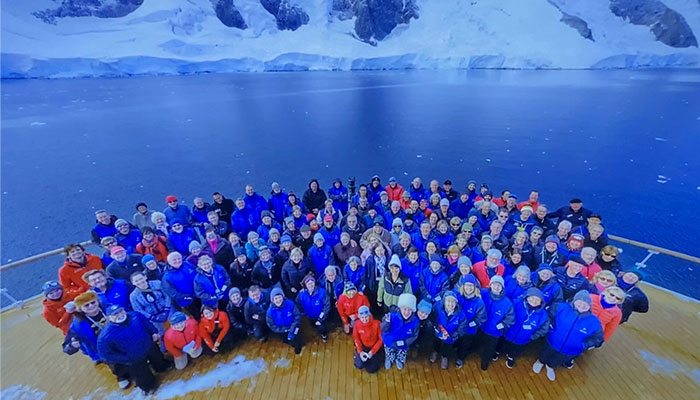 First hand observation: Professor Alvin Ing - pictured in this group of Antarctic cruise passengers - studied patients on board as COVID-19 raced through the ship in March 2020. Image credit: Peter Eastway.
The study was carried out in real-time on the Australian-owned MV Greg Mortimer cruise ship, operated by Aurora Expeditions, which became stranded off South America in late March as border closures to combat the spread of COVID-19 swept the globe.
The research describes the first instance of complete COVID-19 testing of all passengers and crew on an isolated cruise ship during the pandemic. Its findings may apply in particular to similarly closed environments such as aged care homes, migrant camps and prisons, Ing says.
For 28 days, following its departure from Ushuaia, Argentina, on March 15, the ship had no outside human contact, apart from Uruguayan medical staff who boarded the ship to test and assess all passengers and crew, while equipped with full PPE.
Of the 217 passengers and crew, 128 (59 per cent) tested positive, although fever and mild symptoms were present in only 16 of the COVID-19- positive patients (12.5 per cent), with another eight medically evacuated (6.2 per cent) and four requiring intubation and ventilation (3.1 per cent).
The numbers that were actually positive are a revelation because they showed firstly, how widely and quickly the virus spreads and secondly, how so many of the COVID positive passengers were asymptomatic.
"There were therefore a total of 24 COVID-19-positive patients who were symptomatic (19 per cent), with the majority being asymptomatic (104 patients or 81 per cent)," the study, published in the journal Thorax, states.
Says Ing: "The findings may partially apply to the general population in that the number of asymptomatic positive cases are likely to be underestimated, the reason being that we don't test asymptomatic patients.
"If you look at the current testing advice, it's if you have even the slightest symptoms, go get tested … but that doesn't include people who don't have symptoms, so we don't know.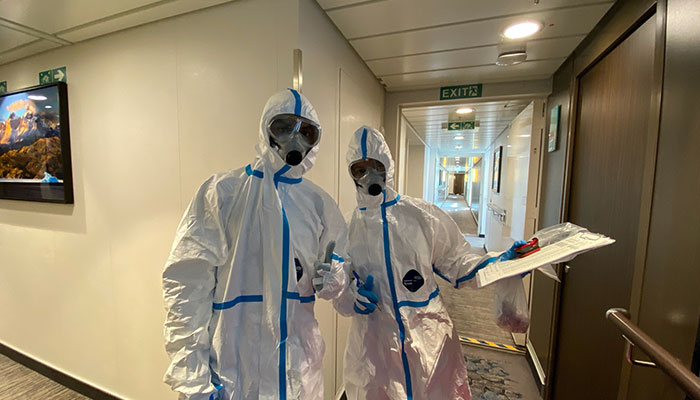 Medical checks: Uruguayan physicians wearng protective suits who came on board the ship to assess the passengers and crew.
"The uniqueness of this study is that everybody on board was tested, regardless of whether they had symptoms or not. The numbers that were actually positive are a revelation because they showed firstly, how widely and quickly the virus spreads and secondly, how so many of the COVID positive passengers were asymptomatic."
In another key finding, six of the passengers and crew who were among the first to show symptoms and had initially tested negative to the virus when a rapid testing kit to detect antibodies (Ab) was used, returned positive results from a subsequent nasal swab test. This led the study to conclude that Rapid Ab testing in the acute phase of COVID-19 is unreliable.
There has sadly been one death to date from the MV Greg Mortimer outbreak. Two Australian passengers remain in hospital in the Uruguayan capital Montevideo, one of them on the road to coming home, but the other remains ill, Ing said.
"The passengers and crew that are now home, we went through significant trauma, because COVID-19 induces physical and psychological stress, but you can't imagine what our fellow passengers who are still in Montevideo, in a foreign country, are going through," he says.
A remarkable but daunting opportunity
For Ing as a respiratory physician, the events on the MV Greg Mortimer were a remarkable opportunity to see how the novel coronavirus behaved and its impact on those it infected. He took the decision early to record in detail the emergency as it was unfolding, together with ship physician Jeffery Green and a fellow passenger, Queensland oncology trials nurse Christine Cocks.
"It was both interesting and really quite daunting at the same time," says Ing. "It was interesting because it was a first-hand experience of how COVID-19 affects different people in different ways – there was a gamut of responses from asymptomatic to mild to severe to life-threatening cases – and how quickly it could spread.
COVID-positive crew members who are asymptomatic who deliver food and items to your door, or an asymptomatic positive staff member in the kitchen preparing food, are potential sources for cross-contamination.
"And it was daunting because for quite some time we didn't have any medical support, and it wasn't until we arrived at Montevideo that we felt a little safer with the Uruguayan Ministry of Health and medical officers providing us that support."
The WHO had declared COVID-19 a pandemic three days before the brand new, luxury MV Greg Mortimer set sail from Ushuaia on March 15 on a 21-day cruise following a similar route to that of the Antarctic explorer Ernest Shackleton.
Before boarding, all passengers and crew were screened for symptoms and had their temperatures taken.
Anyone who in the previous three weeks had transited in China, Macau, Hong Kong, Taiwan, Japan, South Korea or Iran, where infections were most prevalent at that time, was not permitted to board.
"The experience of coronavirus in Australia up until the time we left was minimal," Ing says. "Up until the beginning of March we had just six cases in NSW, all of whom were overseas-derived.
"We all knew what was happening in China, South Korea and Japan at the time, but there were minimal cases in the USA, and South America, we thought, was a safe continent, because there were only a smattering of cases in Argentina and Brazil. So overall, our personal experience with COVID was nil.
"But we knew what could happen."
A brilliant week, then lockdown
The ship's two physicians were taking temperatures every day, and multiple hand hygiene stations were positioned throughout the ship, especially in dining areas.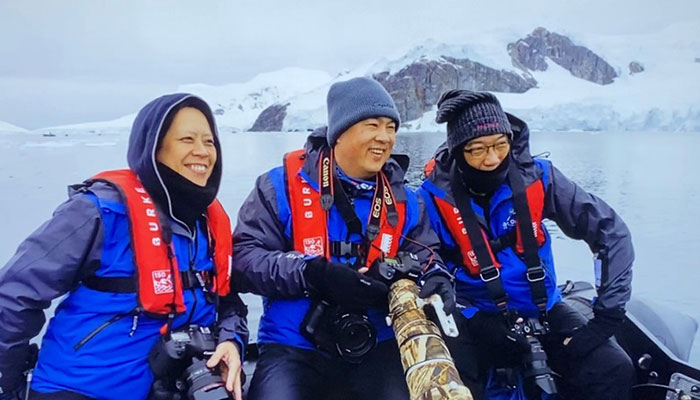 Calm before the storm: Professor Alvin Ing, far right, on a zodiac during the first week of the cruise before people became ill when COVID-19 began racing through the ship.
For the first week, on what everyone believed was a COVID-free ship, the MV Greg Mortimer crossed the Drake Passage and explored the Antarctic Peninsula, visiting locations including Danco Island, Paradise Bay, Lemair's Passage and Deception Island.
"It was brilliant," Ing recalls. "We were the only boat down there – now we know why … the landscapes were stunning and the wildlife was mesmerising. We experienced leopard seals, humpback and minke whales, and gentoo, emperor and chinstrap penguins. We used zodiacs to disembark onto icebergs and drifted with pack ice; it was a wonderful experience."
Then, on day 8, the first fever was recorded.
As the research paper describes, isolation protocols engaged immediately and passengers were confined to cabins with face masks issued to all. Full PPE was used for any contact with sick patients, and N95 masks for any contact with passengers in their cabins. Crew delivered meals to cabin doors three times a day, but did not service the rooms.
Why isolation was not enough
A decision to cut the cruise short had already been taken on day 3 due to the border closures and travel restrictions being instigated around the world.
The plan was to complete the Antarctic section of the cruise and then return to Ushuaia for charter flights out on day 14, abandoning the South Georgia component of the expedition.
But by day 28, passengers were still waiting to disembark.
After Argentina had closed its borders and the Falkland Islands refused permission to dock, the ship had sailed to Montevideo, arriving on day 13, but authorities would not allow the ship to dock until everyone on board had undergone formal nasal swab testing.
By then, further fevers had been detected in three crew on day 10, two passengers and one crew on day 11, and three passengers on day 12, although most had improved and had no fever by the time the ship arrived at Montevideo.
What this means is that isolation by itself doesn't protect you from acquiring the virus, unless you know who has the virus on board. This means everyone should be tested even those without symptoms."
But on day 14, three more passengers and crew fell ill. "One of these passengers, a 68-year-old man who was a lifelong non-smoker with no comorbidities, deteriorated and required urgent medical evacuation to a hospital in Montevideo on day 17. He was intubated and ventilated and tested positive for COVID-19," the study states.
In all, eight passengers were evacuated, including one of the ship's physicians, and a 64-year-old man who developed a fever 15 days after cabin isolation, suggesting cross-contamination took place despite the ship's lockdown.
"Isolation may help prevent spreading through aerosolisation, such as via coughing or sneezing; what it doesn't prevent is viral spread through contaminated surfaces (fomites) like cutlery, plates and food," Ing explains.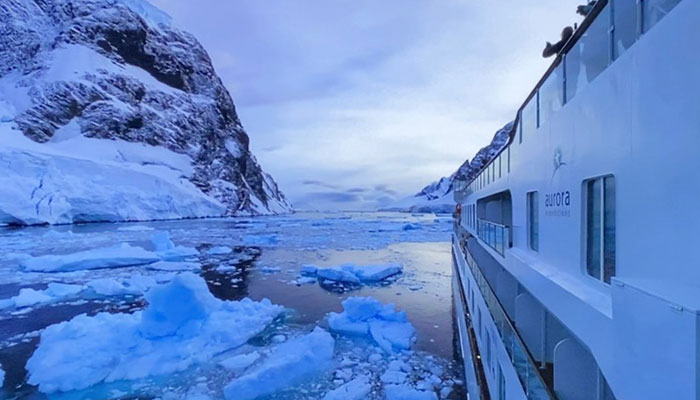 Trouble ahead: the MV Greg Mortimer, operated by Aurora Expeditions, became the scene of an at-sea COVID-19 outbreak with 128 (59 per cent) passengers and crew testing positive out of 217 total people on board.
"COVID-positive crew members who are asymptomatic who deliver food and items to your door, or an asymptomatic positive staff member in the kitchen preparing food, are potential sources for cross-contamination.
"So what this means is that isolation by itself doesn't protect you from acquiring the virus, unless you know who has the virus on board. This means everyone should be tested even those without symptoms."
The puzzle of discordant cabins
From his cabin isolation, Ing was in constant touch via WhatsApp with other passengers and the ship physicians who would confer with him following their twice-daily checks on all passengers and crew.
As the ship languished at anchor for two weeks, 10 nautical miles from the port of Montevideo, Ing was also a conduit between the ship and the Australian embassy in Argentina, keeping them abreast of the medical situation on board and when patients were in need of evacuation.
In a further key finding, 10 cabins recorded discordant results, meaning one occupant tested positive and the other negative for COVID-19. The researchers concluded that there may be a significant false-negative rate with the nasal swab testing, which will be determined in a follow-up study being prepared by Ing.
"If you have the disease but are not shedding virus within the incubation period, you will test negative; if you have the disease and have recovered, you stop shedding as well so also test negative," Ing says.
"If we now look at serological antibody testing in everybody on board, it will tell us how many of the negative passengers and crew were truly negative."
Ing and his brother-in-law were among the cabins that returned a discordant result, with Ing testing negative. A subsequent antibody test since his return to Australia was also negative, which astounded Ing.
"In addition to the possibility that the test was done at the wrong time, there is also the possibility that some people are relatively immune from the virus for whatever reason, possibility due to past exposure to coronaviruses," he says.
Gratitude and regret
On April 11, day 28, 112 Australian and New Zealand passengers at last disembarked from the MV Greg Mortimer and began the journey home. The rest of the passengers followed on day 32.
Ing says the passengers owe a huge debt of gratitude to the Uruguayan Government and Ministry of Health, who provided a sanitary corridor for the repatriation of both COVID-19 positive and negative passengers.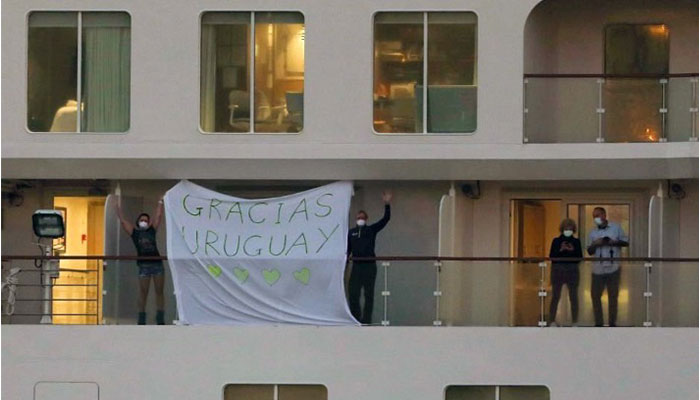 Land at last: Passengers hold up a thank you sign in this picture taken by a Uruguayan naval ship that was escorting the MV Greg Mortimer to dock.
"I thought we were going to be in Uruguay for up to six months, waiting for the pandemic to settle, or waiting for everyone to be COVID negative. I was prepared to be hunkered down until September, to be honest," Ing says.
Quarantined for two weeks in a hotel room in Melbourne, Ing wrote the research paper – titled COVID-19: in the footsteps of Ernest Shackleton – in order to share the experience of the Greg Mortimer with the rest of the world, and to help highlight some of the features of COVID-19.
"From the professional point of view, I found it a positive experience because I have learned a lot about COVID-19 and gained some skills and knowledge of how to manage it – I hope it never happens, but if there is ever a second wave, I feel equipped to handle that," Ing says.
"The only regret I have is that people became sick, and one person died. So from that point of view I wish it never happened."
Professor Alvin Ing is a Professor, Respiratory Medicine, Faculty of Medicine and Health Sciences, Macquarie University; and the Clinical Program Head, Cardiovascular and Respiratory Program at the University.