People in dangerous bushfire zones delay taking action until the last minute because they're too optimistic about their own risk, new research has shown.
The highest fire danger warning has been forecast for Sydney, the first time the warning has been issued in Australia's most populous region since the 'catastrophic' category was introduced in 2009.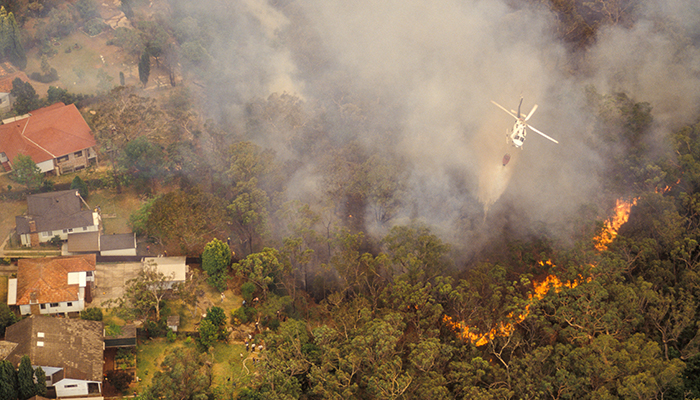 Red alert: The NSW Rural Fire Service is warning residents in catastrophic fire danger areas to seek safety in a large town, city or shopping centres.
"This category was set up to distinguish the conditions that are the worst that the bushfire risks can get," says Dr Mel Taylor, who is a psychology lecturer at Macquarie University and a researcher at the Bushfire and Natural Hazards Cooperative Research Centre (BNHCRC).
"The catastrophic fire danger rating is based on a lot of different measures – temperature, humidity, fuel, wind – being off the scale so that if a fire starts in these conditions, it will travel very quickly and firefighters will not be able to control it," she says. "The only thing they will be able to do is to get people out."
Taylor's research analysed the responses to a series of bushfires during 2017 and says that it confirms that people are innately optimistic about their own risks.
In most communities, a large number of people are not prepared for the bushfire season, she says. Even in the face of a high fire risk, many people will delay taking action until the last minute.
In catastrophic conditions... [fires] can travel so quickly, you really have to leave immediately.
"We found that even if people received and understood warnings, they still wanted to visually confirm the situation before taking action," she says. "In the bushfire situations we looked at during 2017, people would go outside or even travel towards the fire to see whether the smoke was coming from the direction they expected and was actually something to worry about."
She says that the 'catastrophic' fire rating is a way to clearly communicate that we are in a so-far rare situation where it is dangerous to even wait to see if a fire has started.
"In catastrophic conditions, you don't have the luxury of time to confirm that information, because fires in those situations can travel so quickly, you really have to leave immediately."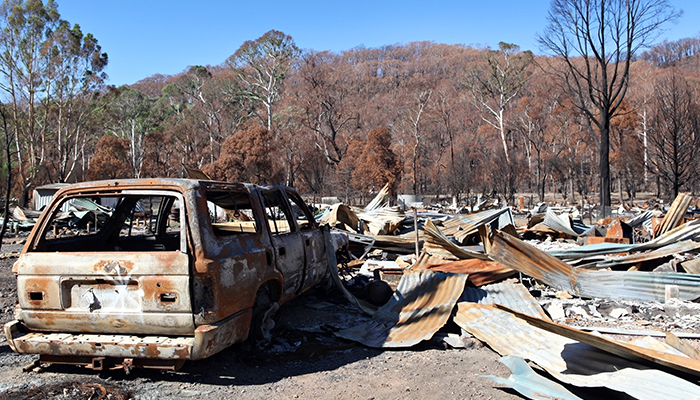 Catastrophic conditions: People should have an emergency plan in place and evacuate early to stay safe, warns Taylor.
Firefighters were battling more than 100 fires in NSW and Queensland on Monday, with authorities struggling to contain the blazes ahead of Tuesday's dangerous weather conditions. It has led NSW Premier Gladys Berejiklian to declare a state of emergency, which will remain in place for seven days.
Taylor warns embers can travel a long way ahead of the main fire front and set off spot fires very quickly.
Prepare to evacuate
"The fire services know that when it comes to managing fires in these conditions, they have reached their limit and all they will be doing is trying to get people out," she says.
Even one day of preparation can make a difference, as schools near bushfire risk zones prepare to close and people can make plans to relocate family keepsakes and photographs and find a safe place for pets, she says.
She has also completed a long-term research project into animal emergency management which shows that the loss of pets in bushfires can be psychologically devastating for animal owners.
"Even if there's no sign of fires, people in high-risk areas should be getting ready to leave, taking things that matter to them. If they are at work for the day, they should talk to their neighbours about their plans and see if someone can take their pets for them if they have to evacuate, and bring their personal computer hard drive with them to work," she says.
The warnings also allow organisations to respond. Taylor recently discussed bushfire emergency plans with Northern Beaches Council, which is working with the Rural Fire Service to set up a staging area for the early evacuation of horses and other livestock at the Frenchs Forest Showground, ahead of Tuesday's 'catastrophic' conditions.
She suggests that even if they have not prepared before, it's not too late for people to implement some plans the night before the catastrophic warning takes place.
"The risks are high, so I will be taking my hard drive and everything important with me when I leave my house, just in case," she says. "Ask yourself – what's the consequence of doing this and it not being a problem, compared to the consequences if something does happen?"
Dr Melanie Taylor is a Senior Lecturer in Organisational Psychology, in the Department of Psychology.