Hong Kong is in transition to an uncertain future.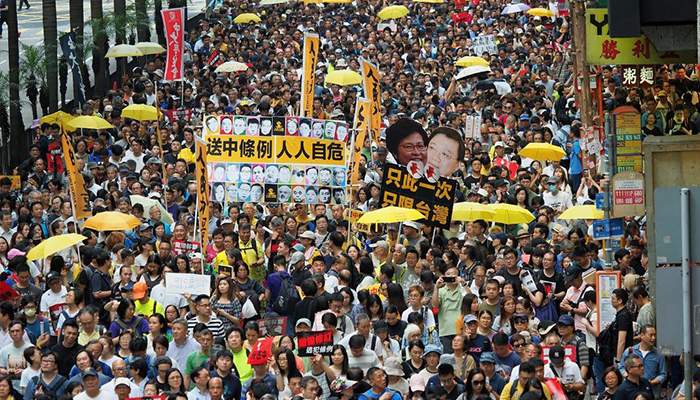 Fear in the streets: Tens of thousands of Hong Kong residents joined mass demonstrations on 28 April 2019 over a proposed extradition bill which has sparked concern that democracy is under threat by China. Picture credit: Flickr/Etan Liam.
Before the 1997 handover, ending 156 years of British rule, local families were genuinely fearful of what would happen when Hong Kong was transferred to Chinese sovereignty.
Families left and emigrated to Australia, Canada, the UK and elsewhere. When their fears did not materialise, some Hong Kongers returned to work and live. But now Hong Kong families are leaving again.
There is no doubt that Hong Kong is changing. With the adoption of major infrastructure projects including the High-Speed Rail from Hong Kong to Guangzhou and a sea-bridge connecting Hong Kong with Zhuhai in the People's Republic of China, Hong Kong is being subsumed into what is referred to as the Guangdong-Hong Kong-Macau Greater Bay Area.
Crackdown and disappearances
In the time that I lived and worked in Hong Kong, there were genuine concerns about increasing self-censorship, the erosion of academic freedom and the permissible limits of free speech.
In 2015, a Causeway Bay bookseller, Lee Bo, disappeared from Hong Kong. The Immigration Authorities had no record of Lee Bo leaving. There are regular crackdowns on dissent in China and human rights lawyers and activists have disappeared before, but how could Lee Bo have been extrajudicially disappeared from Hong Kong? There is currently no extradition agreement between Hong Kong and China, but people are fearful of how an extradition agreement could be manipulated in practice.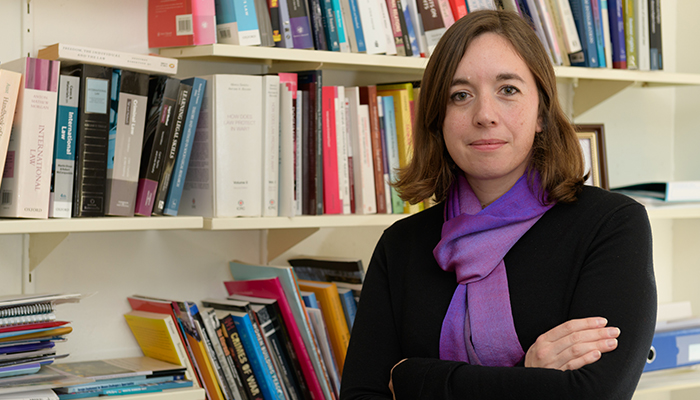 Human rights advocate: Senior Lecturer Amy Barrow researches law and social change in Hong Kong.
Hong Kong's recent anti-extradition protests have focused international attention on the relationship between the People's Republic of China (PRC) and Hong Kong, a former British Colony, which is now a Special Administrative Region (SAR) of the PRC.
Some of my own students were tear-gassed in that time.
The 1984 Sino-British Joint Declaration set out the principle of 'One Country, Two Systems', which allows for the continuation of Hong Kong's way of life, including its common law system premised on the rule of law and independence of the judiciary, for a period of 50 years until 2047.
Shortly after the agreement, in 1989, the Chinese Government's violent crackdown on pro-democracy protesters in Beijing's Tiananmen Square caused grave concern about Hong Kong's political future. In a bid to restore public confidence, prior to the handover, the British Colonial Government adopted the Bill of Rights Ordinance in 1991, which implements the International Covenant on Civil and Political Rights in Hong Kong's domestic law.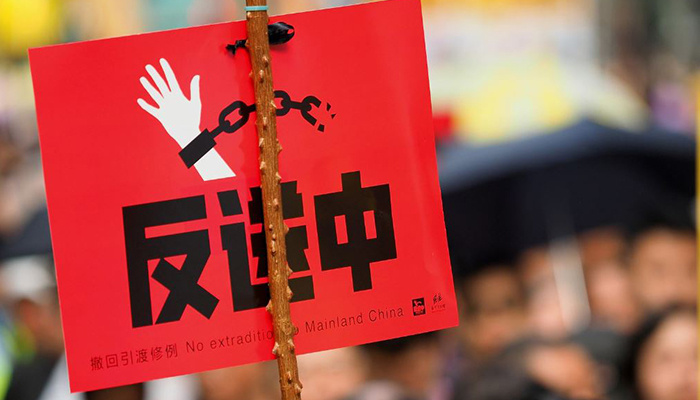 Sign of the times: One of the protest messages seen in Hong Kong during 28 April mass demonstrations. Picture credit: Flickr/Etan Liam.
Hong Kong's rights-based legal framework allows for freedom of speech, freedom of the press, freedom of association, and freedom of assembly and demonstration – important civil liberties. Hong Kong citizens are free to criticise the Government and to protest in the streets.
Following the 1 July 1997 handover, with the exception of the areas of defence and foreign affairs which are the responsibility of Beijing, Hong Kong SAR has enjoyed a high degree of autonomy in governance. However, the Basic Law, Hong Kong's quasi-constitutional document includes a number of Articles which have proven contentious, including Article 23 which states that the Hong Kong SAR Government should enact legislation to prohibit any act of treason, secession, sedition or subversion against the Central People's Government. Following a mass protest against the proposed adoption of Article 23 national security legislation on 1 July 2003, the Hong Kong SAR Government withdrew its bill.
The scale of protests demonstrates Hong Kong citizens will continue to resist.
Hong Kong citizens do not currently have the right to vote for and elect their own Chief Executive but pro-democracy activists have called for the progressive realisation of universal suffrage as set out in Article 45 of the Basic Law. In August 2014, the Standing Committee of the National People's Congress in China prescribed the screening and selection of Hong Kong's Chief Executive Candidates leading to widespread civil disobedience and mass protests.
Protesters shielded themselves from the Hong Kong Police Force's pepper spray and tear gas using umbrellas, an image of resistance that would be projected around the world, leading to the so-called Umbrella Movement. Some of my own students were tear-gassed during that time.
Yellow umbrellas unfurl in defiance
The Hong Kong Bar Association criticised the Hong Kong Police for using disproportionate force. Despite the police brutality, the protesters continued to resist and set up camp, occupying Hong Kong's Central and Admiralty districts from September to December 2014.
The protest sites were located directly in front of where I worked. The site was well-organised, non-violent and there was a clear sense of community. The protesters, many of them students, had set up study tents. People had planted gardens on the sidewalk and a recycling system was set up.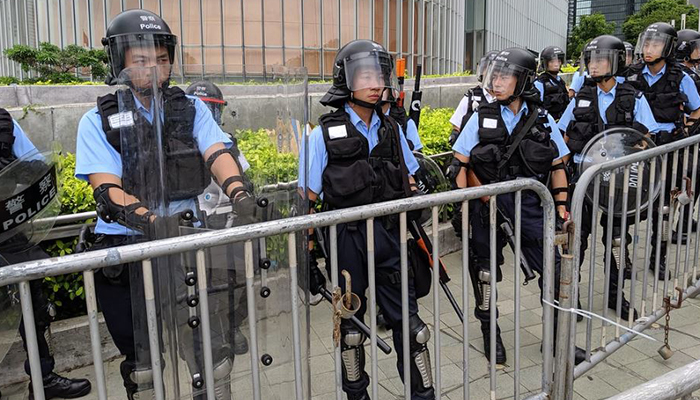 Full force of the law: Hong Kong Police have used tear gas and fired rubber bullets against protestors in the latest round of demonstrations. Picture credit: Flickr/Studio Incendo.
The protest site was awash with yellow umbrellas and other protest art – banners were unfurled from Harcourt Road Footbridge and a figure of an Umbrella Man stood defiantly. Leading figures of the Umbrella Movement including Joshua Wong, a student activist, and Benny Tai, a Hong Kong University law academic, were prosecuted and jailed. Since the Umbrella Movement, Hong Kong has not witnessed the same large-scale protests until the recent mass anti-extradition protests.
When Hong Kong's Chief Executive, Carrie Lam, tabled the Fugitive Offenders and Mutual Legal Assistance in Criminal Matters Legislation (Amendment) Bill 2019 on 3 April 2019 there was widespread concern about the bill's implications.
Two million black-clad protestors
Ahead of the bill's second reading on 6 June 2019, 3000 Hong Kong's lawyers, dressed all in black, silently marched from the Court of Final Appeal to Hong Kong's Legislative Council to voice their opposition to the bill, which allows for the extradition of fugitives to China. Concerned that the bill could be manipulated by the Central People's Government to crack down on dissent, thousands of protesters took to the streets to demand the withdrawal of the extradition bill in scenes which turned violent.
In contrast with the Umbrella Movement, the protestors were dismissed as rioters, sprayed with pepper spray and tear gas, and fired at with rubber bullets. Despite the scale of the protests and opposition, Carrie Lam attempted to rush the bill through Hong Kong's Legislative Council and refused to withdraw it.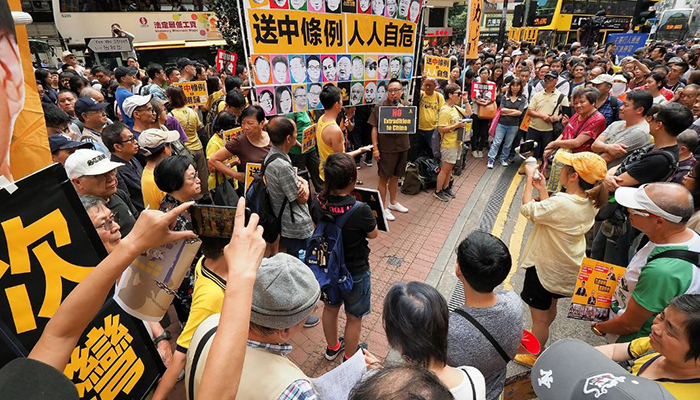 People power: Protesters are calling on foreign leaders to raise the issue at the G20 Summit, taking place on 28-29 June. Picture credit: Flickr/Etan Liam.
On Father's Day in Hong Kong, a reported two million protesters, dressed in black, again took to Hong Kong's streets to call for the bill's withdrawal and for Carrie Lam's resignation. The Chief Executive has suspended the bill and publicly apologised but there remains significant distrust in the Hong Kong SAR Government.
It now appears that the bill is indefinitely suspended but the Chief Executive's response seems harder-edged than when the Article 23 National Security Legislation Bill was formally withdrawn in 2003. Hong Kong's Justice Secretary Teresa Cheng has rejected calls for an investigation into police brutality during the mass anti-extradition protests.
The Umbrella Movement and anti-extradition protests have caused serious concern that the principle of 'One Country, Two Systems' is being eroded with grave consequences for the civil liberties and rights of Hong Kong's citizens. While this may be the case and Hong Kong's future is uncertain, the scale of protests demonstrates Hong Kong citizens will continue to resist.
Amy Barrow is a Senior Lecturer at Macquarie Law School. She was previously an Assistant Professor in the Faculty of Law at the Chinese University of Hong Kong. Amy researches on law and social change in Hong Kong, with a particular focus on human rights and equality.