As bushfires continue across Australia's south-east for the fifth month, more than ten million people living in Australia's most populated cities, away from the deadly fire-fronts, have been exposed to unprecedented levels of smoke pollution.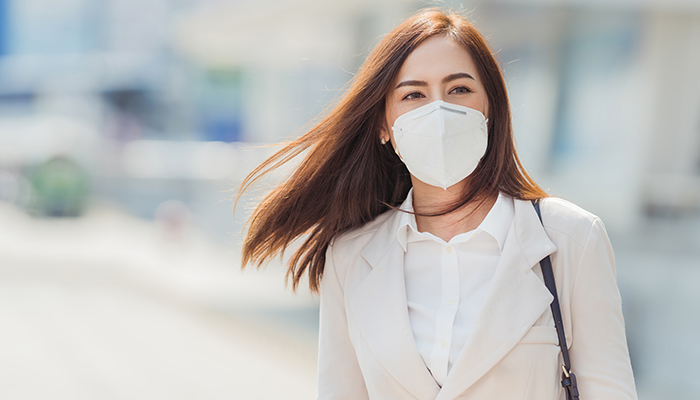 Serious health implications: Hazardous air quality has led many people to wear masks, although Professor Ing warns only P2 masks can adequately filter out the pollution.
Professor Alvin Ing is one of Australia's foremost authorities on lung cancer and respiratory disease, and says that he's very concerned about the longer-term impacts of the ongoing smoke pollution.
"The high levels of particulate matter and the long period of exposure is not like anything we have seen before in Australia," says Professor Ing, who is the clinical head of Macquarie University's Cardiovascular and Respiratory Program.
"The fires have been going on since September, and the high levels of air pollution have been present now for months."
He says it will take at least five to 10 years, probably longer, before we start to see the full impact of the ongoing high pollution levels in Australian towns and cities.
The smoke pollution here has been persistent and consistent for so long, that we are in uncharted territory with the long-term health consequences.
"To be honest, I think this high level of exposure to air pollution for this long is quite dangerous," he says. "I am concerned that there is going to be a spike in lung cancers in particular in the next decade and beyond, because of this prolonged exposure to high levels of toxic particles and carcinogens. There is also an increased risk of head and neck, and nasopharyngeal (throat) cancers with increased air pollution."
Because this level of pollution is unprecedented, he says that health outcomes are not clear. "We don't know as yet what the longer-term impacts of the smoke and the fine particle pollution in an Australian context will be," he says.
Looking overseas
He is looking to epidemiological studies from cities overseas which have experienced long-term high air pollution levels, to assess possible future public health scenarios for Australia.
"There is some evidence from more polluted cities like Beijing and New Delhi, that ongoing high air pollution is linked to a potentially increased risk of not only chronic lung disease and lung cancers, but also heart disease, strokes, diabetes and even smaller-sized babies at gestation," he says.
Some of the levels of PM 2.5 pollution in Sydney recently have surpassed some of the worst days in Beijing and New Delhi, with PM 2.5 levels in Sydney the worst that has ever been recorded.
While researchers can draw some parallels, the current situation where so many towns and cities are shrouded in smoke is new, he says.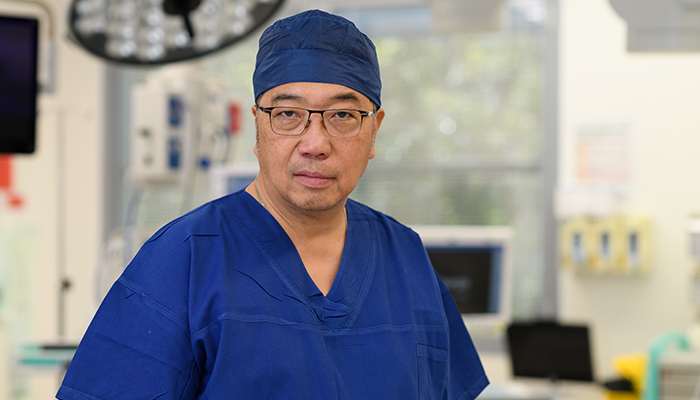 Cause for concern: Professor Ing is worried about the sustained levels of PM2.5 smoke particles which have shrouded Australia's rural town and major cities due to raging bushfires.
"The smoke pollution here has been persistent and consistent for so long, that we are in uncharted territory with the long-term health consequences," he says.
"We know that tobacco smoking is the primary epidemiological reason for lung cancer. But there's also good evidence that air pollution plays a significant role.
"In China and India, high particulate matter from air pollution and other sources such as open wood stoves and fires is a leading cause of lung cancer – and that's very similar to what Australians are being exposed to at the moment."
Surpassing national guidelines
Australia's national air quality guidelines include legislated standards for carbon monoxide, nitrogen dioxide, ozone, sulfur dioxide, lead and particles (dust and other small materials), which are divided into two categories - PM10 and PM2.5.
Professor Ing says that the high concentration of fine particulate matter in the air that measures less than 2.5 microns in diameter (referred to as PM 2.5) is the most worrying fallout from bushfires, because these small particles can enter deep into the lungs and the bloodstream and are linked to a range of poor health outcomes.
Monitoring of air quality across the state by the NSW Department of Environment shows far higher rates of PM 2.5 than normal.
Australia's background concentrations of PM2.5 in the air is typically around five micrograms (μg) per metre cubed, but cities such as Sydney and Melbourne have been blanketed by smoke since October, with some readings recording up to 790 μg/m3 of PM 2.5 – more than thirty times the maximum concentration of the 25 μg per day Australian standard and the recommended World Health Organisation's safe limit.
Vulnerable populations at higher risk
Professor Ing says that he is constantly discussing the implications of the ongoing air pollution with his patients, many of whom have conditions such as asthma, chronic obstructive pulmonary disease and even lung cancer.
Air pollution has a real impact on the health of people who already have respiratory conditions, he says, and can severely compromise their daily activities.
"One or two days, or even a couple of weeks, of air pollution they can deal with by staying indoors and avoiding external activity but I am concerned about the continued persistent, poor air quality particularly with fine particulate matter, or PM 2.5"
Respiratory conditions are very common among Australians with about a third of the population, or 7.4 million Australians, reporting chronic respiratory conditions in 2017-18. Most common is asthma, which affects around 2.7 million people, followed by the progressive lung condition chronic obstructive pulmonary disease (COPD), which affects an estimated half-million people.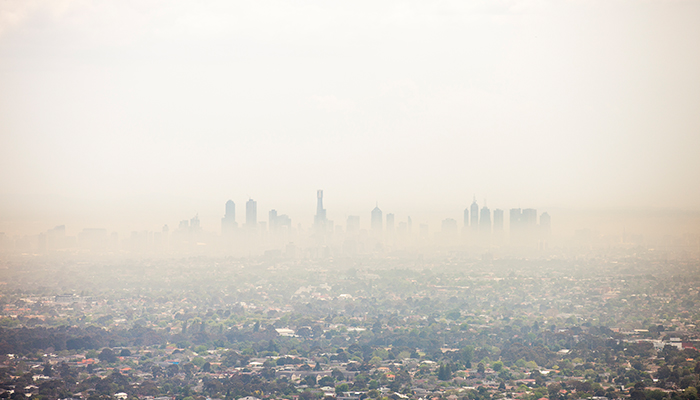 Unprecedented scenes: The skylines of Sydney and Melbourne (pictured) have been comparable to those in the smog-choked cities of Delhi or Beijing.
Over the past four months, he says that patients who are normally well during summer, are experiencing acute exacerbation, sometimes requiring hospitalisation, and most patients have needed to raise their dose of medications to cope with the poor air quality.
"Most people who have COPD and asthma generally have exacerbations in winter and we can cut back on their preventative medications during summer as they aren't so badly affected," he says.
"This year, we haven't done that – there have been acute exacerbations in people that previously have never had acute exacerbation."
He is concerned that these short-term effects could be a precursor to longer-term deterioration in people's lung conditions. "We don't know whether these heavy air pollution conditions will trigger a chronic progressive deterioration in lung function over time. It depends what they're breathing in, and how much of it is the smaller molecules, which can get into blood vessels and cause damage elsewhere."
Protecting yourself from air pollution
Professor Ing says that HEPA air purifiers can be effective at reducing PM 2.5 in the surrounding air, but major outlets in Australia have sold out and there's a backlog of orders. Although governments are now distributing masks to pharmacies in heavily-affected areas, he says these may restrict airflow, especially in patients with pre-existing lung disease such as asthma and COPD.
"This leads to people getting short of breath during simple activities like a short walk, which can limit their compliance with masks," he says. "In healthy individuals this is generally not a problem, but it is a frequently reported issue in my patients."
He says that most surgical masks are not very helpful. "There's evidence that when used and it's properly fitted, the P2 mask is useful. However, if a P2 mask gets moist, or if improperly fitted and there is poor sealing, it becomes ineffective."
He recommends that his patients monitor the pollution index and the PM 2.5 levels in their area. "On bad days particularly, I suggest people stay inside as much as possible, use an air purifier if you can, use air conditioning that recirculates indoor air if you know that it is filtered, and try not to venture outside."
Many buildings have quite high levels of particulate now, particularly older buildings that aren't well sealed, he says. "I do recommend that people try to minimise their exposure to the polluted air but that's harder to do than you might think. In many indoor areas, you can still smell the smoke, it's constantly around."
Smaller particulate pollution tends to decrease at night, he says; but it is also dependant on weather conditions. "We have got to a situation in Sydney where people are looking at the pollution index in the morning and then planning their day around the pollution levels, and that's probably the best you can do."
Professor Alvin Ing is the Clinical Program Head of the Cardiovascular and Respiratory Program and a Professor of Respiratory Medicine in the Department of Clinical Medicine at Macquarie University.