There has been much talk about 'slacktivism', aka 'clicktivism', armchair activism, or hashtag activism, the implication being that hearting an endangered koala, commenting, or posting a pithy quote might feel that you have contributed, but have you, really?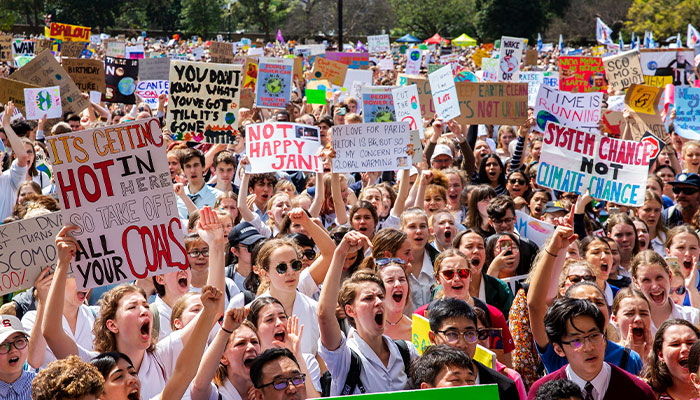 Virtual and reality: School students gather in Sydney for a rally against climate change ... physical protests can combine with social and traditional media, says Dr Lloyd.
Debate is ongoing about whether online activism is eroding traditional forms of protest, and right now, we have a kind of hybrid model between physical protest and online protest.
Talk about 'slacktivism' actually dismisses the value of small provocations. Activism is often called a ladder of participation – supporting a cause by writing a comment online is actually a first step. Later you might sign a petition, write to a politician, be part of a co-ordinated letter-writing campaign that feeds into an inquiry, a bill before parliament, a royal commission.
Around any technology there is, first, a moral panic, where people see (and blame) the technology itself as causing a change, rather than seeing the longer-term changes surrounding the technology.
A movement is made up of multiple actions and multiple people and organisations, and each person's small part in it is really important.
But we have now moved on from the moral panic stage and are taking a more mature position where really skilled and highly knowledgeable activists are looking at social media very carefully and being very strategic about how it is used.
The positive part of social media is that it's not a top-down model of media, everyone can have a say, a voice, and that's really exciting. Social movements are starting to get their heads around the possibilities.
You can combine physical protests with social media and with traditional media by sharing stories, sharing memes, such as #FixedIt, journalist Jane Gilmore's campaign to challenge misreporting about violence against women, and finding new ways of framing an issue. If everybody tells their own version of a story and how it impacts them, that's incredibly powerful.
In the US the campaign #FightFor15 and in Australia the United Workers Union's Hospo Voice project to support hospitality workers have been great examples of campaigns that share stories of people directly impacted by an issue.
Every action counts
A movement is made up of multiple actions and multiple people and organisations, and each person's small part in it is really important.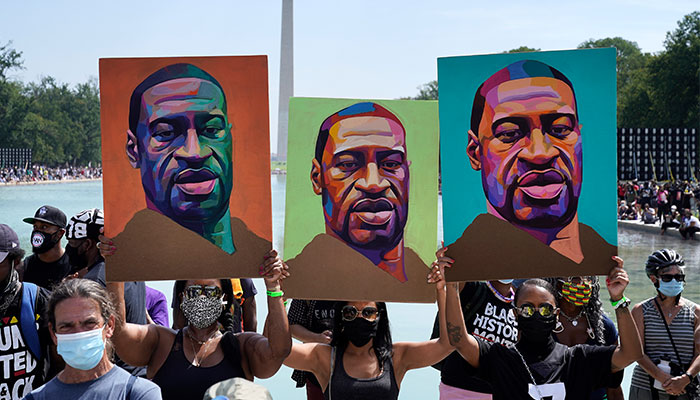 #PoliceBrutality: Protesters hold aloft pictures of George Floyd in Washington DC ... the sharing to social media of Floyd's death at the hands of police was an instance of citizen media intervention, and fuelled a worldwide movement.
Change builds over time and often it takes a change of government, ideology or political approach for it to arrive at its moment. For example, it took more than 40 years to get childcare as a key government policy in Australia.
At university, I am teaching a generation who are digital natives, who only know an online study and work environment. For six months of this year they couldn't go to physically see their friends; high school students couldn't even go to school. Being online is a way of life.
Some of the students in my unit, 'Activism and Social Change', have done fantastic research on the #FridaysForFuture school strikes that evolved globally from Greta Thunberg's 2018 protest against climate change inaction.
When school strikes became a health risk because of COVID-19, they moved online, effectively, powerfully and creatively. Using Zoom meetings, posting on social media accounts, getting social media influencers on board, organising calling parties to lobby politicians – we witnessed very quick and agile responses.
Going for the economic jugular
Social media enabled a template of sustained and intense protest around the Adani coal mine in Queensland's Galilee Basin. Protestors targeted insurance companies and banks supporting the project, forcing companies to think about whether they wanted to risk public goodwill by lending to fossil fuel companies.
People speaking back and to each other, documenting and recording keeps a check on power, and that's incredibly important.
Destroy the Joint is an interesting example of going from online activism to the economic jugular. What has evolved into a movement for gender equality and civil discourse in Australia started as a hashtag, Twitter and Facebook page that arose from the opinion of broadcaster Alan Jones that "women are destroying the joint".
The movement triggered a sponsor boycott reported to have cost his radio network some $2 million. Again, advertisers were forced to consider whether media outlets that were misogynistic and abusive were the right fit for them.
The sharing to social media of the death of George Floyd by police in Minneapolis in May highlighted tragic and visible evidence of issues that the Black Lives Matter movement had been protesting about since 2013. This was citizen media intervention, images taken by an onlooker with a camera and then shared to social media with the hashtag #POLICEBRUTALITY, fuelling a worldwide movement.
It resonated in Australia where, between 1991 and June 2020, there have been 437 black deaths in custody.
This transparency around power hasn't been possible before. People speaking back and to each other, documenting and recording keeps a check on power, and that's incredibly important.
Dr Justine Lloyd is a Senior Lecturer in the Department of Sociology at Macquarie University.