A Macquarie University survey about the impact of COVID-19 has shown that 88 per cent of teachers and 60 per cent of parents are worried about the mental health of their students and children.
More than half of the 350 parents and teachers surveyed were also concerned about their own mental health and felt they would benefit from more information about how to keep children mentally healthy during this time.
To address this, and respond to multiple requests for support on how to prevent the development of anxiety and depression in their students and children during the pandemic, Macquarie University has developed the Covid-19: We've got this covered ! website.
Named by young people surveyed and launched today, it provides strategies for managing anxiety and depression experienced during this crisis and includes videos, downloadable tip sheets and support contact lists. The project combined input from the Centre for Emotional Health, Macquarie School of Education and the Academy of Continuing Professional Development, as well as the Faculties of Medicine, Health and Human Sciences and Arts.
Professor Jennie Hudson, the Director of the Centre for Emotional Health at Macquarie University, said the isolation, uncertainty and change resulting from COVID-19 provided "a perfect storm" for the development or exacerbation of anxiety and depression in children and young people. Her team had been receiving daily emails from various education groups requesting support for teachers, students and parents experiencing increased anxiety.
"It felt like every day I was doing a new project; it was clear there was a real need for one central source of engaging content that everyone could access, and the whole university pulled together to make this happen.
What might happen to the mental health of children and young people given the risks associated with isolation, change and uncertainty? Our long-term goal was to make a difference.
Professor Mary Ryan of the Macquarie School of Education said this was the only nationwide, evidence-based website combining all resources into one portal, and directly addressing sector needs. Asking parents and teachers exactly what they wanted and then curating it in the one spot ensured that the online content was hyper-targeted to their needs.
Popular questions included:
How can I manage my child's screen time, while still helping them develop healthy screen habits?

In an online video, Michelle Azoum at the Centre for Emotional Health said that – depending on how it is used – research suggests that a moderate use of screen time can have a small positive impact on your child.
But not all screen time is equal, for example use of screens to socialise with friends is better than mindlessly scrolling through social media. So have a think about the type of activities your child is doing online and break it down into categories: educational, active to get your child moving, socialising and entertainment/leisure, and then decide how much time in each is suitable for your family.
Communicate these limits clearly and take regular brain breaks – put on some music and dance around the room, get outside for a bike ride or implement a family star jump challenge. If your child really does struggle to disconnect, try sitting next to them and taking a genuine interest in what they are doing before reminding them it's time to finish.
It may also be worth setting a timer or using an alarm system, as well as using the parental controls available on games, phones and apps (there are lots of examples on the website). When they do get off, give them praise and acknowledge their frustration – and if they do not, make sure there are natural consequences such as reduced screen time for the following day.
How do I prevent my child's emotional or boredom eating?
Children, like adults, eat for reasons other than being hungry. It can help to try and identify why your child is asking for food – what were they doing just before they asked for food, has it been a couple of hours of doing schoolwork, have they finished one activity and don't know what to do next, or have they just heard something stressful that provoked feelings of sadness or worry?
It's also a good idea to plan regular scheduled break times and activities: go outside, stretch or even have a conversation and talk through their emotions. And try to limit sugary or high carbohydrate foods, such as chips, which can cause spikes and drops in blood sugar levels, making your child feel hungry again much sooner.
Remember that saying no is OK and that setting boundaries for your child, especially in these rapidly changing times, may help them to feel more secure. If you are concerned, seek professional assistance, such as from a psychologist or dietician.
How can I help my child learn independently and stay motivated?
If your child is experiencing difficulties, start by identifying the problem. Perhaps they are unclear on what the task involves, they don't feel like starting or they don't know where to start. Remind them that it is OK to ask for help.
Plan a similar structure to a school day: help them maintain a regular wake-up time and develop a timetable. Break tasks into small manageable chunks, as this can help with their motivation. Encourage them to take more regular breaks than normal and include physical activity, as being in front of a computer for long periods can be more difficult on the body than being in a normal classroom.
Also try to find time for children to connect with family and friends, and plan and encourage rewards such as a favourite meal, fun game, doing something with you or going for bike ride. And remember, we're all in this together. If your child is worried that they are falling behind because of the changes in schooling, remind them that everyone has been affected by COVID-19. There will be opportunities in coming months to recover any learning missed.
How can teachers stay connected to students?
In an online video, Penny Van Bergen, director of the Centre for Children's Learning in a Social World, says that teachers have adapted really well to a huge number of changes in terms of technology and resourcing. But relationships are more difficult, and maintaining positive student-teacher relationships help motivate, inspire and improve children.
Some tips include: making class videos, implementing individual check-in times, trying a joke of the day or writing personal emails to the class. Showing interest in children and valuing them for more than their school work can help. Let students know you are proud of everything they have been doing and you are happy to keep learning with them. Most of all, give yourself a pat on the back for everything you have been doing!
Professor Hudson believes parents and teachers will find the website very useful, beyond COVID-19.
"It has all the strategies you will need if you're wanting to get help for a child suffering from anxiety or depression," she says. "The fact that it's a freely accessible website using evidence-based materials will hopefully make a difference. Given that reported anxiety was already on the rise, my concern was: what might happen to the mental health of children and young people given the risks associated with isolation, change and uncertainty? Our long-term goal was to make a difference."
A longitudinal study tracking the activities and mental health of kids has also launched today in collaboration with researchers at the University of Oxford in the UK – children aged over 10 and their parents can sign-up on the website.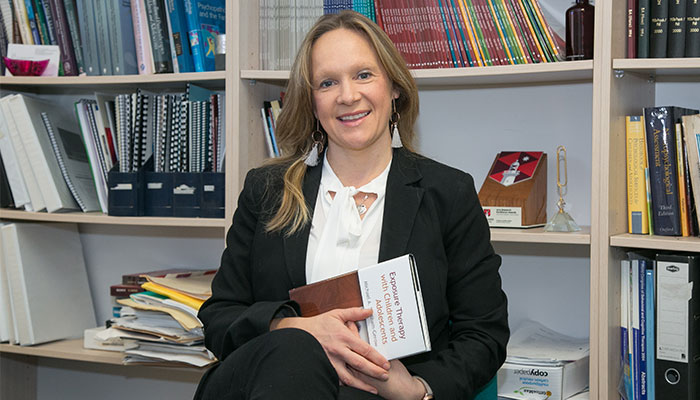 Jennie Hudson, pictured, is a Professor in the Department of Psychology and the Director of the Centre for Emotional Health, Macquarie University.